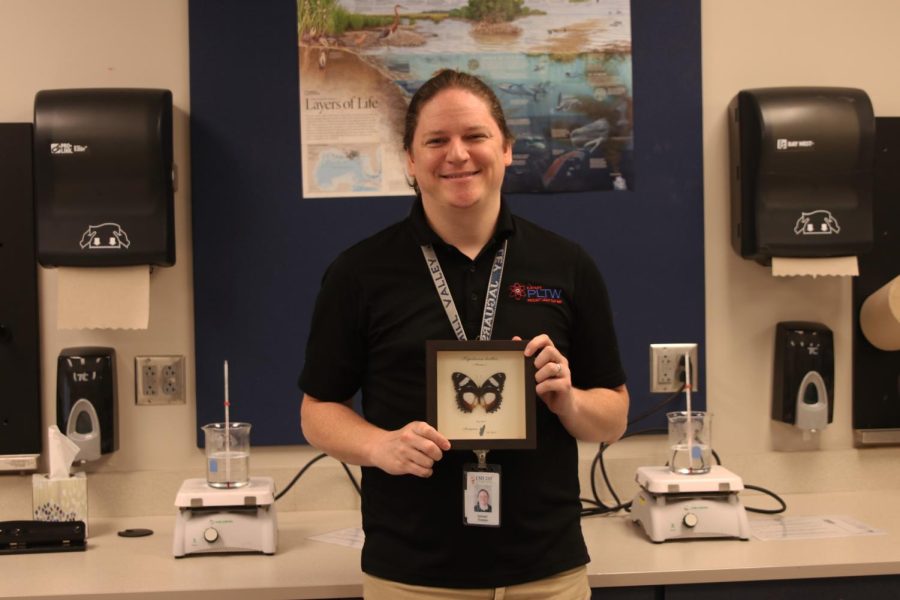 New biology teacher is excited for his educational journey at Mill Valley
Coming from Pleasant Ridge High School, teacher Samuel Preston looks forward to sharing his passion for science
Mill Valley News: What is your background and what did you do before you came to Mill Valley?
Samuel Preston: I taught at Pleasant Ridge High School as a part of the eastern USD 449 school district for the last eight years and this is my first year here at Mill Valley. I'm teaching biology and plants in the environment. 
MVN: What college did you attend and what was your major and minor?
SP: So, I actually attended three different colleges throughout my educational journey. My first was Johnson County Community College and I graduated with my associate of Arts. From there, in 2009, I went to Missouri State for my undergraduate and I graduated from there with my bachelor's degree in biology education in 2012. Then I just graduated from the University of Kansas with my master's in curriculum and instruction so rock chalk jayhawk.
MVN: What are your first impressions of Mill Valley?
SP: It's wonderful. I've had a great experience so far. [The] kids are fantastic. [The] administration is fantastic. I'm very excited for my educational journey here.
MVN: What do you like to do in your free time?
SP: Much to the chagrin of my wife, I like to play lots of video games and like to watch a lot of football and sports. 
MVN: Why did you want to become a science teacher?
SP: I'm very passionate about science. I think it's important that we have scientifically literate citizens so that we can make the best decisions moving forward, especially given the challenges that we've faced.
MVN: Describe something on your desk or in your classroom that has a special meaning to you.
SP: So, I have a mountain butterfly that came from Madagascar. I got it from my supervising teacher which I was student teaching, and it was meant to show kind of the evolution and metamorphosis as you kind of go through your educational journey. So for me, I've kind of kept that in mind that we are not always going to be perfect in the things that we do. We always grow and develop and learn from our experiences. 
(Visited 6 times, 1 visits today)