New baseball and softball fields improve corresponding programs
Complete with artificial turf, the new fields provide a wide array of beneficial amenities for the baseball and softball teams
The sounds of construction equipment and the smells of fresh turf coming from behind the football field often fill the air from early morning to late afternoon. Head baseball coach Jeff Strickland observes the progress of the new baseball and softball fields from his classroom window. Strickland's team hasn't stepped on the new field yet, but he is eager for them to experience all of its new benefits.
"We're unbelievably excited and grateful that we're getting what I think will be the nicest field in the Kansas City area for a high school," Strickland said. "We're getting

 new bullpens and dugouts, new fencing, new bleachers, new lights and turf."
The new fields and the accompanying amenities come from the third and final phase of the district's $85 million bond issue, addressing how "the school did not previously provide equitable on-campus facilities for baseball and softball," according to the USD 232 website. Construction began in June 2021 and is expected to be finished before the start of the 2022 spring sports season.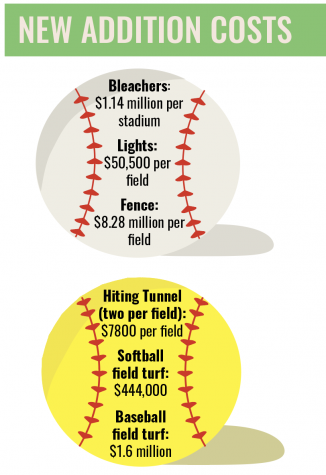 Head softball coach Jessica DeWild cannot remember a time where she wasn't advocating for an on-campus softball field, thinking about all of the issues the new addition would resolve.
"[The new field] will be very convenient for us," DeWild said. "We'll be able to practice and play our games on campus, whereas in the past we would have to drive to 3 & 2 Baseball Complex which caused us to start practice later. We'd have to transport equipment back and forth [between campus and the complex]. We're going to get a turf field so we shouldn't have to have as many rainouts and worry about the weather because in the spring, there's a lot of rain."
The addition of a softball field will allow for simultaneous gameplay of the softball and baseball varsity teams, a feature that will improve the relationship between the two teams according to junior Emma McCall.
"We'll definitely have more people getting along," McCall said. "We'll get along with the baseball team a lot better by having fields close to each other. [Additionally], we'll have a lot more people coming to the games since [the new field] is on campus now."
(Visited 286 times, 1 visits today)