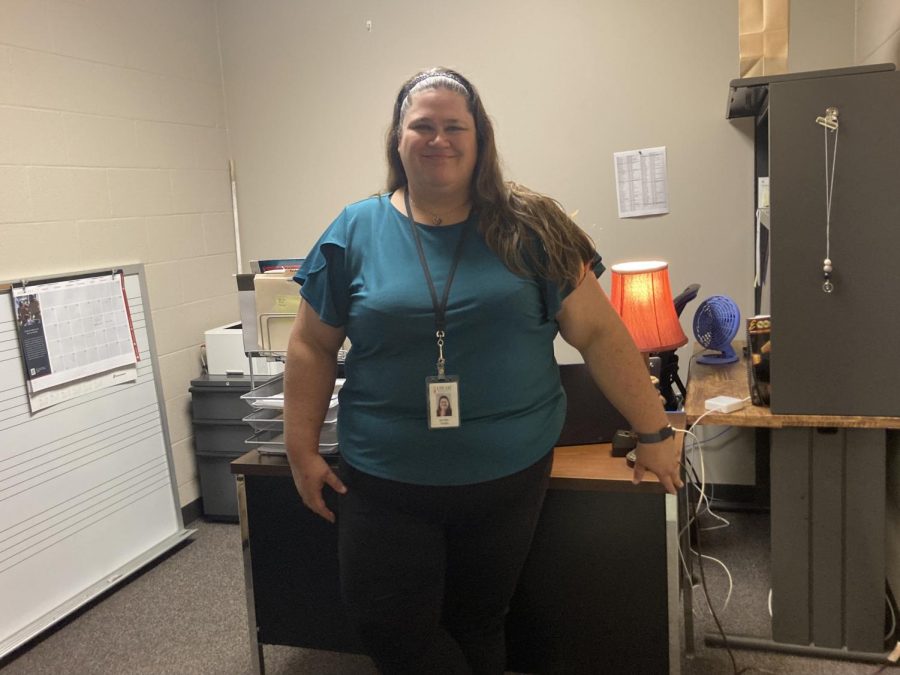 By Chloe Miller
New assistant band director adjusts to Mill Valley after last minute hire
Jennifer Whyte describes the current transition period she's experiencing at the school
Mill Valley News: Why did you choose to work at the school?
Assistant band director Jennifer Whyte: It does bring me about an hour closer to my family, which is nice. Also, I've known [band director] Deb Steiner for a while and I respect everything that she's done and I love the chance to get to work with her and work with a great band program. 
MVN: Why did you get into education?
JW: I come from a family of teachers. My dad taught high school Spanish. He was also a coach. He coached football, baseball, basketball, tennis, a lot of stuff. My brother is also a teacher, so it kind of runs in the family. 
MVN: What is your background?
JW: I grew up in southwest Missouri, in a little town called Webb City, which is a suburb of Joplin. I've known I wanted to do music since I was in middle school, and from there I went to Missouri Western and did my undergrad there. 
MVN: What did you major in?
JW: Music education with performance emphasis. I got my first job in Atchison as the assistant band director. I was there for five years, and then I left to do my master's degree at Pitt State and spent two years as a graduate teaching assistant there. Atchison came and recruited me back to teach in their district as the head band director, and that's where I was for the last five years, and then I came here, literally one week before school started. 
MVN: What's your favorite thing about the school?
JW: My favorite thing is probably the people. The people are super nice. Second, the facilities and the ease of access for everything is also amazing. 
MVN: Do you have any goals as a teacher?
JW: [I want to] become a better teacher. You never stop digging for that dream. I just want my talents to support and extend everything that's already in place here. 
MVN: Is there anything else you would like people to know about you?
JW: You could say my overall goal is I want people to know that I'm a welcoming person. I want everybody to succeed. I want to find the best way to do that. But, they also need to help themselves too. We can't hold their hands all the time while they do it. It's a give-and-take scenario. 
(Visited 22 times, 1 visits today)