New accreditation process focuses on student growth
The Kansas Education Systems Accreditation (KESA) Vision looks at emotional, technical and academic growth
Schools in Kansas are undergoing a new process for accreditation. Accreditation status shows that the education a student receives is credible and helps determine how credits are transferred from high school to college.
The U.S. Department of Education defines accreditation as the "recognition that an institution maintains standards requisite for its graduates to gain admission to other reputable institutions of higher learning or to achieve credentials for professional practice." The new standards for Kansas focus on academic preparation, cognitive preparation, technical and employability skills and civic engagement, which fall into the Kansas Education Systems Accreditation (KESA) Vision.
Each school will determine their own method of assessing strengths and weaknesses of their institution, but must follow four rubrics which assess the relationships, academic rigor, relevance and the responsive culture of the school. Furthermore, each district must be accredited as a whole, as opposed to each building being assessed individually, like the past. Receiving the status gives the school credibility and demonstrates that it meets standards for performance.
Mill Valley has adopted a system of four sub-squads that make up the KESA building leadership team. According to principal Tobie Waldeck, the squads include teachers, parents, school resource officers and school nurses, in order to provide "a cross-section of the whole building." Each squad assesses the school according to the rubrics provided by the state, and determines how the school performs.
Through her work on the relationship squad, Spanish teacher Jennie Dillon has taken a look at the interactions from students to teachers, educators to the district, the community and administrators, as well other relationships within and around the school.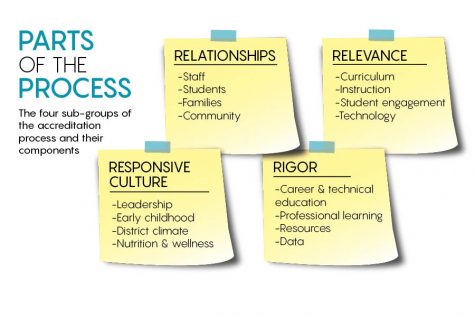 "As a teacher, I just hope to make improvements schoolwide that I can also utilize in my classroom," Dillon said. "With [the process] being much more broken down and specific, it allows us to focus on one of those things at a time so that we can put it back together and create a much stronger environment."
The rubrics, coupled with the other research — such as the surveys administered to students during seminar — are the "needs assessment," which shows the strengths and weaknesses of the school's performance according to the four KESA Vision areas. The data that makes up the needs assessment is sent to the state and is used to determine whether or not the school is accredited.
In addition to these squads is the Site Council, which works to provide advice and affirm the ideas and decisions made by the KESA Vision squads. The Site Council is composed of educators, community members and two students.
As a part of the Site Council, senior Isaac Knapp hopes to see improvement in the relationships between students and teachers.  
"Getting some of the students' ideas, and how the teachers communicate to the students their assignments and stuff like that — I want to be able to improve that," Knapp said. "I think that teacher and student communication is huge for all that homework, tests [and] emotional development is really important."
Similarly, Dillon hopes to see knowledge about the school's performance distributed more widely.
"I look forward to being more informed about some of the things happening at a higher level," Dillon said. "I just always look forward to … realizing areas where we're weak, being able to brainstorm and come up with ideas or actual strategies that will be really helpful across the board and to all classrooms to create a much more positive environment."
Site Council member Gretchen Aerni, mom of junior Blake Aerni, was selected to participate due to her experience as a substitute teacher and parent in the district. Seeing the work that goes into getting the school accredited has been an enlightening experience, she said.
"I feel like the schools are so good out here and it's kind of interesting to see the process because you take it for granted," Aerni said. "But you see the work and you see the meetings, so that's kind of interesting as a parent, to see what goes in."
"
We want every kid to be able to reach his or her own potential."
— principal Tobie Waldeck
Waldeck hopes the information collected by the KESA Vision squads and the Site Council will help the school to serve its students.
"I'm anxious to see results in terms of the needs assessment and to actually use that information," Waldeck said. "Every teacher, and everybody in this building has had their hands on this stuff. I want to see those results and use that information to do what's best for our kids."
Ultimately, Waldeck's end goal is to see each student grow to their fullest.
"We want every kid to be able to reach his or her own potential," Waldeck said. "My potential may be different from yours, but we want every person to be able to reach that potential. … We want to be able to send kids to college, to send kids to the workforce, to wherever, and to be prepared."
(Visited 86 times, 1 visits today)
About the Contributors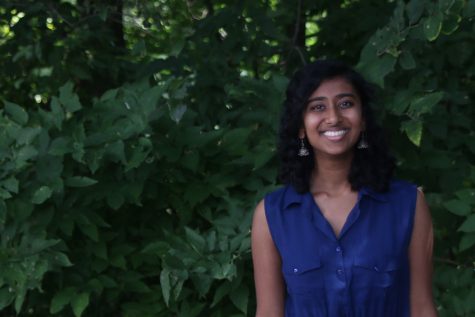 Elizabeth Joseph, Mill Valley News editor-in-chief
This is senior Elizabeth Joseph's second year on the JagWire staff. She is undertaking the position of Mill Valley News editor-in-chief alongside Katya Gillig and Marah Shulda. When she's not in the J-Room, she can be found in A207 serving as the Science Olympiad team captain or the president of National English Honor Society. She is also a part of National Honor Society and MV Outreach. Additionally, Elizabeth enjoys admiring plants, bopping to...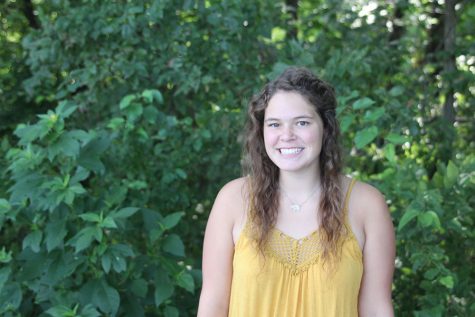 Victoria Wright, JagWire editor-in-chief
This is senior Victoria Wright's third year on the JagWire staff and her first as editor-in-chief. She is also a member of National Honors Society, Ambassadors, girls swim team and is a girls tennis manager. Wright likes to spend her time hanging out with her brothers, friends and her main man, God. She also enjoys traveling and watching sports. Victoria is excited to see what the year brings and for everyone to see the newspaper this year!