Neighborhood apps allow community to communicate
Popularity of Nextdoor and eNeighbors rises among students
The close knit community of Shawnee parents has now gone mobile through neighborhood apps, and students are starting to download the apps as well. Popular apps such as Nextdoor and eNeighbors have become a way for members of the community to communicate with each other about events, found items or odd jobs.
Upon registration for Nextdoor, users are prompted to enter their address and the app assigns the user to a neighborhood based on their location. Locally, there are multiple groups and neighborhoods all under the umbrella of Nextdoor Mill Valley.
As a local babysitter, junior Caroline Rutledge joined the app to find more parents interested in her babysitting business.
"I signed up for [Nextdoor] … because I wanted to get my name out there for babysitting," Rutledge said.
Since downloading the app six months ago, Rutledge said she's seen her number of clients skyrocket.
"I have at least 30 people who have asked me to babysit," Rutledge said. "My weekends are booked."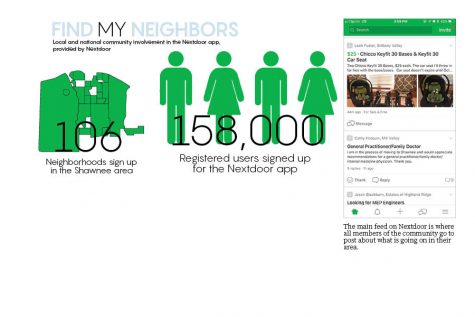 Another Nextdoor user, senior Cori Carver, joined because her parents described the app to her and captured her interest.
"My parents joined and they were telling me about all the stuff they would find on there," Carver said. "I thought it'd be interesting to see what's on there, too."
In her experience, though, the posts have been more comedic than helpful.
"I see a lot of things about people attempting to identify animals running around and a lot of people trying to sell baby clothes," Carver said. "That's usually the jist."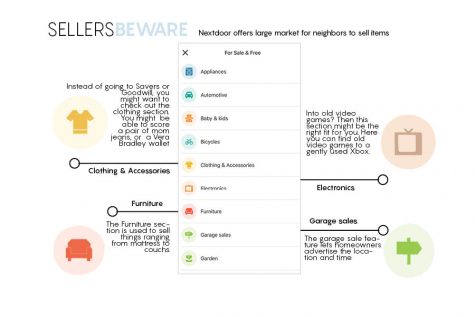 Senior Garrett Mehner also agrees that a lot of the posts are more laughable than they are beneficial to the community.
"Every weekend someone will angrily post about being ding-dong-ditched or woken up by a neighbor's party," Mehner said. " I just think it's funny that a neighborhood app is the first place people will go to rant about their problems."
Rutledge agrees that while a large part of the app's initial appeal is the amount of unusual posts that users will encounter, the app is also a good place to find a lot of goods and services being offered.
"There are also posts about good contractors who will come to your house and a lot of parents post things about roofing," Rutledge said.
Rutledge also says that from her prior experiences, the abundance of information the app offers can be just as beneficial to students looking for work as it is for adults and their businesses.
"There's a lot of information and you can really put your name out there," Rutledge said. "Especially for kids, if you're looking to mow lawns, it's very easy to just get your name out there."
Carver agrees that there is a lot of information to be found on the app and says that you can even enjoy scrolling through the contents of  posts without looking for anything in particular.
"Honestly, it doesn't matter," Carver said. "It's just fun to get on and look at."
(Visited 105 times, 1 visits today)