NEHS sponsors book drive for Books Kansas City
Students were asked to donate old books for class cup competition
Anika Roy, JagWire editor-in-chief
December 14, 2016
NEHS recently hosted a school-wide book drive, ending Friday, Dec. 9. Books were collected in bins outside the counseling office each morning before school as a class cup competition. The senior class won, having brought in the most, and a total of 707 books were collected.
All donated will be sent to Books Kansas City, a charity that provides work for unemployed people in the area, repurposing and redistributing old books.
NEHS sponsor Page Miller believes the drive was perfectly timed by members.
"I had asked members to come to our November meeting with ideas for December," Miller said. "The first idea that came out was a book drive and I thought with the holidays, it was a perfect thing to do."
Recently elected club president junior Graham Wilhauk is confident the preparation for the drive allowed for success.
"We have done a good job preparing the book drive," Wilhauk said. "We did a really good job handing out flyers, and setting up boxes after announcing it. We've done a good job promoting and it seems to have worked because a ton of books have been donated."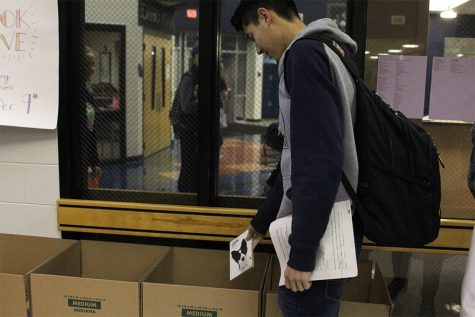 Miller believes that the drive was also helpful in bringing attention to the new club.
"I think it's important for NEHS to do the book drive because it gets our name and our group out there," Miller said.
In addition to success within the club, Miller is also proud of Mill Valley students for their generosity throughout the driv
"It's good for Mill Valley to have done the book drive," Miller said. "Walking by those books every day, we can just see how giving we are and it's so nice."
Overall, Wilhauk has been extremely pleased with the results of the event.
"[The book drive] has been phenomenal," Wilhauk said. "I walked past [the collection bins] and it was filled in each class. I cannot express my gratitude enough for donating, it's such a wonderful feeling to have these books going to a new home."
(Visited 45 times, 1 visits today)