NEHS hosts Open Mic Poetry Night
Students read a mix of original and famous poems Tuesday, April 16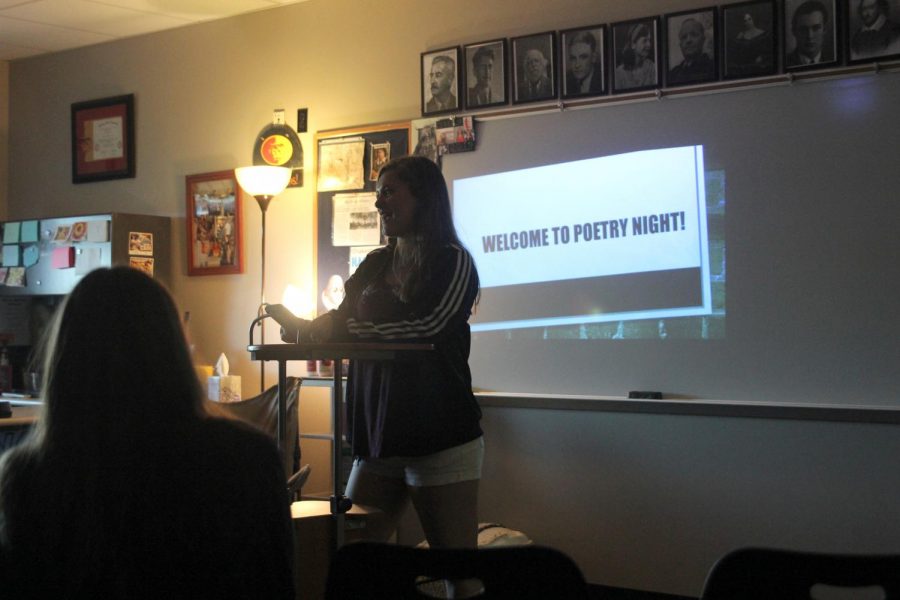 Snapping enthusiastically at the end of a performance, students at the Open Mic Poetry Night, hosted by NEHS, appreciated the creativity and meaningfulness of poetry Tuesday, April 16.
As the president of NEHS, senior Elizabeth Joseph believes the night was beneficial because it was both educational and enjoyable.
"[I would say Open Mic Poetry Night was a success] because regardless of what they read, I think [everyone] had fun, and that is the main goal, to make poetry more accessible to everyone," Joseph said. "Even if it is through silly ways or through more serious ways, I think that we did that."
Senior Jack Jaworski had mixed emotions when it came time for him to perform.
"It was a little bit embarrassing [to perform]," Jaworski said. "But, it was also really fun and powerful to share something in front of other people, especially something as meaningful as poetry."
As a thespian with stage experience, senior Lucy Graff loved to perform on open mic night.
"It felt really nice [to perform] because I got to act [the poetry] out while I [read] it," Graff said. "My favorite part of performing is just being in front of people and making people laugh."
Joseph enjoyed seeing her fellow performers in their element.
"My favorite part was seeing [Graff] and [Jaworski] perform because they were both really good and I know that they both have theatre backgrounds so their [acting] styles really came out while they were reading," Joseph said. "It was nice to see people get involved and see them put their own spins on what otherwise could have been a lifeless work on a piece of paper."
According to Jaworski, there is a big difference between performing original poetry and performing poetry written by someone else.
"My original poem was easier to perform," Jaworski said. "But [reading "A Dog Named Beau by James Stewart] was harder because you have to try and capture the emotion of someone else and do their work justice."
Joseph believed open mic night was a great way for her to get out of her comfort zone and learn more about herself.
"When I write, it is usually for the page. While I like reading out loud, it's generally not what I write for, so it was nice to have an outlet to do something a little more performative than usual," Joseph said. "[I loved] finding out that I can be more performative and expressive because I like being silly and there is a different level that comes with performing pieces."
(Visited 136 times, 1 visits today)
About the Contributors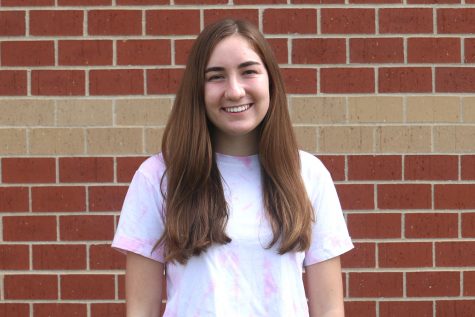 Grace McLeod, JAG editor-in-chief
This is senior Grace McLeod's third year on the journalism staff. She is an editor-in-chief for the JAG yearbook. Grace is also president of the Women's Empowerment Club and involved with SLT, Youth for Refugees, NHS and other clubs. Outside of school, she loves to spend time with her friends and go camping or shopping.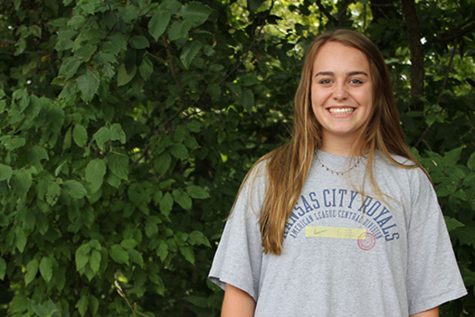 Chloe Carson, JAG reporter/photographer
This is sophomore Chloe Carson's first year on the JAG yearbook staff. This year, she is a photographer. Other than yearbook, Chloe has been on the school's cheer team for two years. Outside of school, Chloe enjoys being with her friends, watching "The Office," hanging out with her dogs, and traveling.