By Alayna Dill
National Novel Writing Month gives writers of all ages a way to express their creativity
NaNoWriMo, a challenge taking place each November, tracks progress and commitment in writing, while also providing a sense of community
November brings colder weather, the holiday season and for writers, an opportunity to develop their writing skills in new ways. National Novel Writing Month, NaNoWriMo, is a challenge taking place annually each November that challenges people to write a 50,000 word novel in one month.
The challenge, run through the NaNoWriMo website, gives authors of all ages a forum and a method to communicate and track their progress. Though, for sophomore Olivia Peters, this is not all the website offers.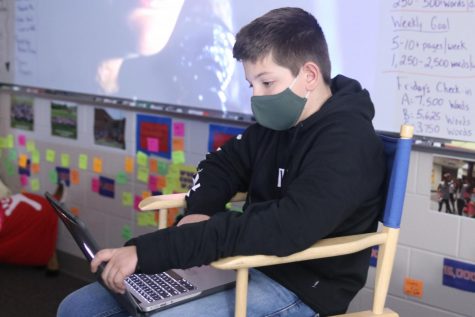 "It keeps track of your streak, how many days in a row that you write and how close you are to your goals," Peters said. "It gives you various badges for doing things that are for your progress and also some are self awarded and more silly."
Monticello Trails Middle School Pathways teacher Christopher Yancey, is doing a creative writing unit in his eighth-grade classes. Yancey has utilized the NaNoWriMo website to help his students track their progress and stay motivated, despite their large goals.
"In a full month it sounds daunting at first, but they really are tackling it," Yancey said. "Not one kid out of 120 in my hall has said that they've run out of ideas."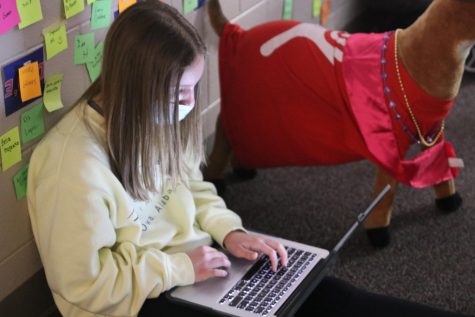 Peters has kept a streak of writing daily since the start of the month and believes NaNoWriMo has been greatly successful in improving her commitment to writing.
"[The purpose of NaNoWriMo is] finding the heart of the story that you're writing, increasing your writing habit and being able to have the commitment and community to keep writing even if you're having writer's block.
In their stories, Yancey's students explore topics ranging from dealing with the death of parents to paying for cancer treatment, through fiction and fantasy. For eighth-grader Dibanhi Lopez, writing can help to process these ideas.
"It gives me a way to express thoughts and feelings down [in writing] without making it seem like a big deal," Lopez said.
Peters, having participated in NaNoWriMo in the past, would recommend it to anyone interested.
"NaNoWriMo is a very good opportunity for young writers who are wanting that sort of community in their writing or just an opportunity to [write]," Peters said.
(Visited 284 times, 1 visits today)
Mill Valley News intends for this area to be used to foster healthy, thought-provoking discussion. Comments are expected to adhere to our standards and to be respectful and constructive. As such, we do not permit the use of profanity, foul language, personal attacks, or the use of language that might be interpreted as libelous. Comments are reviewed and must be approved by a moderator to ensure that they meet these standards. Mill Valley News does not allow anonymous comments, and Mill Valley News requires a valid email address. The email address will not be displayed but will be used to confirm your comments.