NAHS begins second lower C-wing mural
This years mural will be completed in the spring semester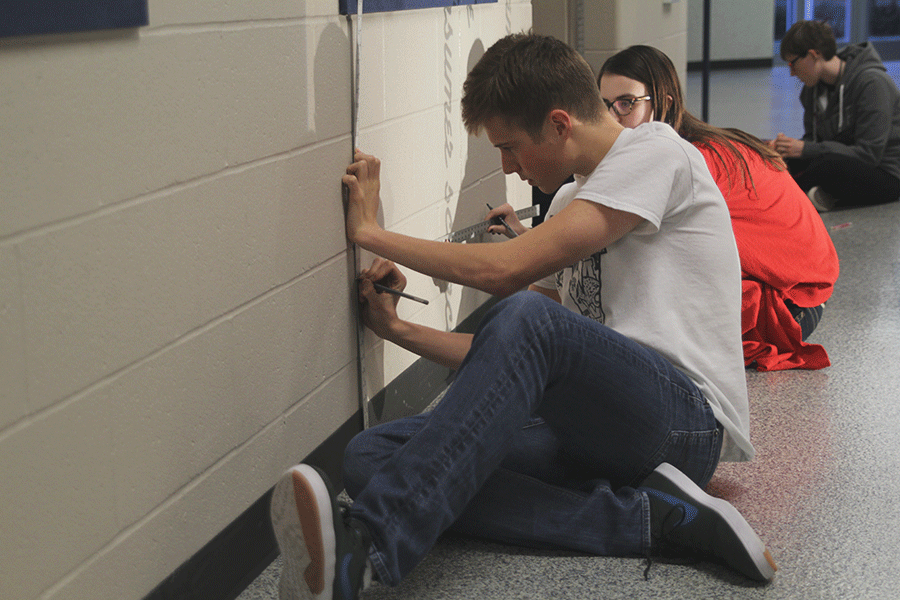 The NAHS began a new mural in the lower C-wing on Thursday, Dec. 11 which is expected to be completed late into the spring semester.
According to senior Steven Blaine, the basic layout is finished. The mural will be a one inch midnight blue line that passes through the entire C hallway. The line will break in front of each classroom into a silhouette that represents the subject, along with the corresponding name of the class.
NAHS sponsor Jerry Howard created the idea to help parents and students navigate the school. The mural is expected to last many years.
"Personally what I'm hoping for is a very clean, very complete mural," senior Dylan Fox said.
Both Blaine and Fox are in charge of overseeing the project, but not the actual painting.
"My role in this project is not very big compared to the other ones," Blaine said. "This is mainly for anyone [in NAHS] who signs up. I'm just overseeing if they need help. I'll offer my two cents but pretty much it's just everybody else's project."
Fox has high hopes for the mural.
"It will be a long and very tedious project, but I can't wait for it to be done," Fox said. "[I hope] it's something we can come back to 10 years from now, if it is still up and say 'oh you know, I did that and it still looks great.'"
(Visited 9 times, 1 visits today)