NAHS begins archiving murals in main hallway
To keep record of and prepare for potential replacement, NAHS archives information about murals in main hallway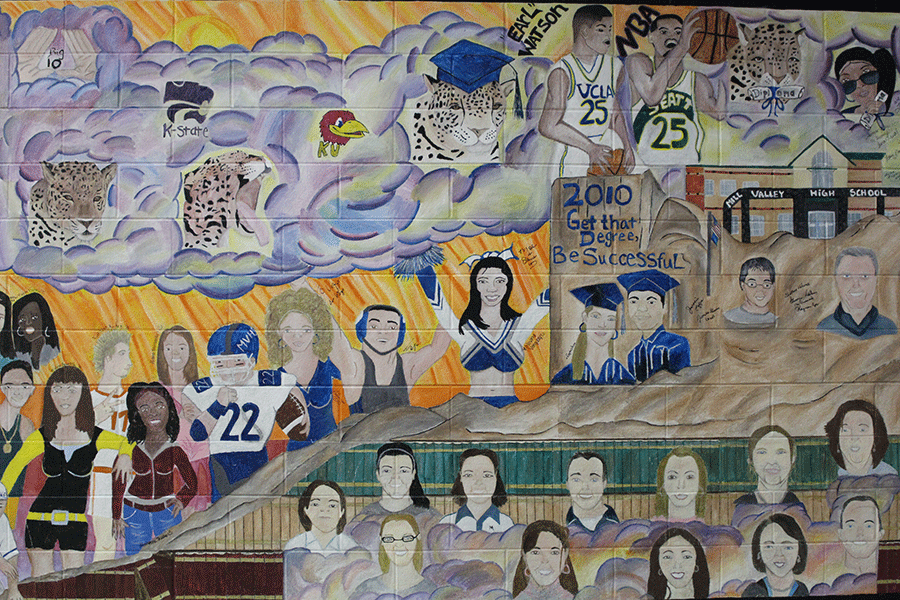 Following a realization that wall space in the main hallway may be diminishing, NAHS has begun archiving records of the murals as a precursor to possible replacement in the future.
Archiving the murals involves conducting research as to who painted them, when they were completed and the class or organization through which they were accomplished. In addition, the club is in the process of taking photos of each mural. If a mural was eventually replaced, the photo would be printed, matted, framed and displayed in either the counseling or main office. NAHS sponsor Jerry Howard said for most of the pre-2010 murals, painting over them has not been a particular goal but rather a concept, though it has been specifically discussed regarding the mural directly outside the theater that depicts former students and faculty.
"[NAHS has] discussed painting over it with Mr. Copeland because it's right outside the theater and we decided it would be great if we had a place to put up pictures of the last show we did, and that would stay up there until the next show," Howard said. "They would be large pictures – large photographs – of the actual show. They'd be photos of dress rehearsals, of students, so they'd have their photograph up during the year they did the show. And we would make some kind of a marquee that said 'currently showing' or 'past production' or whatever and frame it or put some kind of a graphic on the wall that gives us a place to display photos."
In addition to crowded wall space, outdated content in the murals also contributed to the discussion of replacing them.
"We wanted to modernize some of the murals that we have around here, because a lot of the teachers who are in there might not be here now and we wanted something that could last a little longer," NAHS vice president senior Steven Blaine said.
Howard said murals become obsolete based on their subjects, not style.
"Some murals in our school are dated, meaning they depict an event or something that happened at a certain time period, and students now may not be able to relate to that stuff like they did back when it was painted," Howard said. "Some of the murals we have are timeless – the concept and the message they send would apply to people 15 years ago just like it does today. So if we get murals that are timed and students just can't relate to what the events were or what the message is in the mural and we need more room for upcoming murals, we wanted to have a way to archive them so we just don't forget them."
While plans to replace the murals are currently only ideas, Howard said NAHS would have to do so responsibly and ethically if that decision was made.
"We don't want to paint over a mural and just get rid of it. We don't want to set that precedent once; we don't want that to ever be what we do in the future," Howard said. "At some point, we're going to have to paint over some of them in order to put new murals up. That gives new students new opportunities to do stuff, so I'm not suggesting that we just paint out all the murals because we think they're relevant or not relevant anymore – we don't want to do that.  We want to archive them so we keep that tradition here."
(Visited 17 times, 1 visits today)