My childhood blog taught me to appreciate journalism
I started out with K.C.SportsKids, and now end as editor-in-chief of the newspaper
Ever since I was in the fifth grade, I've wanted to be a sports journalist. Granted, back then I didn't even know what that entailed, but I liked to write and talk about sports, so it sounded good to me. My friend Jimmy felt the same way, so we naturally started up our world-renowned sports blog and podcast, K.C.SportsKids.
We learned a lot through our time on K.C.SportsKids, whether it be editing our stupid mistakes in our podcasts to putting up frequent content online. Heck, we even had the opportunity to go to a Sporting K.C. training session for a few interviews. The content may not have been great, since our editing skills were in their infancy, but we were able to improve through trial and error.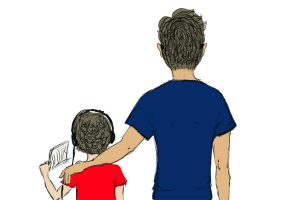 Through the run of our website — fifth grade to freshman year — I began to realize that this is what I wanted to do with my life. It became more than just a hobby and joining the newspaper staff was a natural next step. I started as a reporter and worked my way up to an editor-in-chief somehow. It's taken a lot of hard work and learning from my wonderful fellow staff members over the past three years.
Journalism is more than just giving people news. My time on the JagWire has provided the foundation for what I hope to be a long time career in journalism. I've learned since I was just a naive fifth grader. This journalism thing is hard work, but it also provides new relationships and determination to uncover the truth for the common people.
I never would have thought that some crazy idea as a sports blog and podcast would blossom into my hopes of pursuing a career in journalism. I hope to take all of the skills that I've attained over the last eight years — more specifically, the past three — and put that towards my future endeavors.
Sometimes, I think what my life would be like without journalism. I wouldn't have met some of my closest friends, I wouldn't have told as many stories and I probably would have had a lot more free time. However, I wouldn't trade any of the experiences, good (such as covering state basketball) or bad (killing the briefs page sophomore year), for anything. Being apart of this staff has made me a better writer, friend, leader and mentor.
I can't thank everyone who has helped me along the way enough from the bottom of my heart and I can't wait to see what the future holds.
(Visited 35 times, 1 visits today)