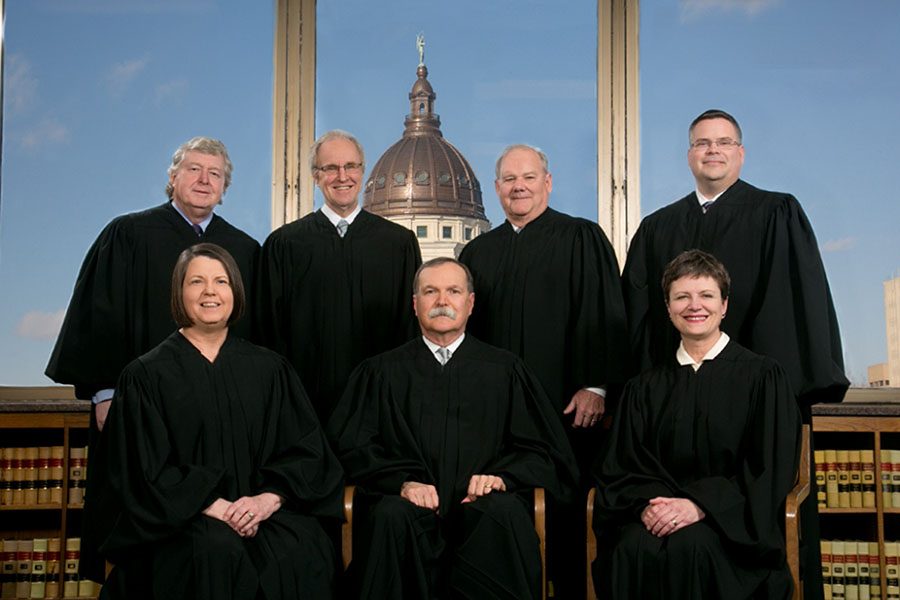 Retention of judges tops state election issues
A survey indicates most students are not aware of items on the state ballot
With a majority of the focus on the national election, many students are not informed about issues at the state level. This election year there is a historic push to get many Kansas Supreme Court justices out of office. Five of the seven justices are up for retention: Chief Justice Lawton Nuss, Justices Carol Beier, Daniel Biles, Marla Luckert and Caleb Stegall. 
Judicial retention is a process where voters decide whether an incumbent judge will remain in office for another term. If retained, a justice serves for six years and then is up for retention again after the sixth year. No judge has ever failed to be retained.
According to sophomore Seth Hobson, this is an unknown topic for most students. The fact that state politics are currently not in mainstream news could explain why students are not informed. According to Hobson, being informed is something all students should do.
"It's your state and it matters," Hobson said. "When you're eighteen you need to know the politicians in your state."
This year, however, there is a big push for select judges to fail to get retention. If all four fail to receive retention, Gov. Sam Brownback would be able to control the Kansas Supreme Court and appoint the judges' replacements. According to Wichita Eagle statehouse reporter Bryan Lowry, this could a have big impact on the ongoing school funding legislation.
"The state's currently facing a $60 million budget gap for the current year, so the new legislature will decide how we fix that," Lowry said via email. "It's also a big deal because the legislature will have to write a new school finance formula this year."
There is more funding this year going towards the effort to oust the judges than in the past. Unlike other elections, judges do not have to report contributions to these campaigns. Lowry believes that this is what has made the vote so high profile.
"I think one thing is that we've never seen so much money and effort go toward ousting justices in the past," Lowry said. "In a normal year a judicial retention race wouldn't be getting so much attention."
This coming election there is the possibility of a shift in the state Senate and the state House of Representatives. In the past the Republican party has controlled the House, the Senate, and the Supreme Court. This year however, the moderates and liberals running for these positions could have a greater chance of winning the seats up for grabs.
There are multiple factors that could contribute to this shift, the biggest one being the low approval rating Brownback has been receiving. According to KSNT news, a new station based out of Topeka, Brownback's approval ratings have plummeted to 25 percent, the lowest in the nation.
These low approval ratings have created a certain amount of mistrust among Kansas citizens, and have caused many to want a change.
According to retired teacher Shelley Brim, the current politicians in Kansas have not been doing their jobs, have not supported public schooling education like they need to.
"I think we have too many professional politicians in there, and they're not necessarily looking out for their constituents' need," Brim said. "They're looking out for special interests."
State elections often impact students more directly than national ones. State elections can affect educational funding, and this can affect school board decisions. Lowry believes that state election are just as important, if not more important, than national elections.
"National elections rightly get a lot of attention, but most of the stuff that affects your daily life actually gets decided at the state level," Lowry said. "State elections determine how much money go to your schools … If you care about what kind of community you're going to have, it's really important to know what's happening at the statehouse."
(Visited 131 times, 1 visits today)