Multi-sport student athletes are becoming less common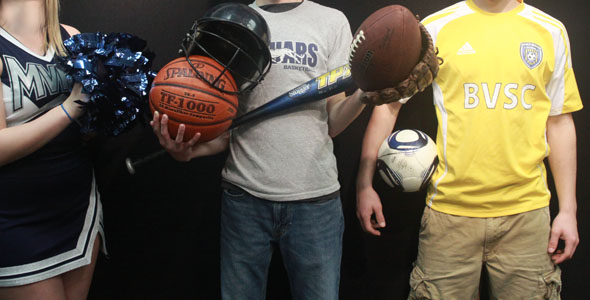 While junior Molly Oshinski grabs her volleyball and knee pads for a day at practice, senior Staton Rebeck stuffs two workout outfits and a yellow Gatorade in his duffle bag for football weights before school and basketball practice after school. Oshinski has chosen to specialize in volleyball while Rebeck has played as many as three sports in a school year.
Recently, coaches have begun to acknowledge that multi-sport players like Rebeck are becoming limited compared to specialized athletes like Oshinski.
Athletic director David Ewers said that the amount of specialized players has increased greatly over the past decade.
"Between 2002-2003 is when one-sport players really picked up," Ewers said. "Since then, it's just increased tremendously."
Head girls basketball coach John McFall said that in the last 10 – 15 years of coaching he has noticed a huge increase in the amount of specialized players.
"The specialization of athletes in high school is out of control and pushed by too many people that have their own agendas," McFall said. "What happens is if [players] limit themselves to only [one sport], the first week of practice they [could] blow a knee then miss the entire season.  They have passed up other opportunities to compete in high school sports and you only have one chance in life to be a high school athlete."
Oshinski plays volleyball year-round as her sport of choice. She said if she was given the chance to play more sports she would, but time management is a huge factor.
"There's no other time to play another sport," Oshinski said. "I practice three times a week for nine months of the year and every day during high school season."
Baseball coach and former high school athlete Dustin Stinnett said that while the time management may be difficult, it is worth it to play numerous sports.
"I benefited from every sport I played," Stinnett said. "If I had said 'I'm going to play baseball and that's it' then I would have missed out on opportunities. You'd miss out on the chance to see if you love a sport."
Rebeck said that he has made sacrifices for being a multi-sport player, but the benefits are what matters.
"I miss out on hanging out with friends or staying up late," Rebeck said. "But I have a broader athletic ability and a lot of life skills like hard work, dedication and perseverance."
Although she acknowledges she would consider playing another sport, Oshinski said the deciding factor was her passion for volleyball.
"I don't think I could love another sport as much," Oshinski said. "I can see myself doing it for a long time and it's always been my one sport."
(Visited 12 times, 1 visits today)
About the Writer
Alana Flinn, JagWire editor-in-chief
Alana Flinn is a third year staffer who is looking forward to a year full of new experiences. As editor-in-chief, Flinn hopes to finally win a Pacemaker for Mill Valley News while maintaining the quality of JagWire. She will also continue to report on her favorite sport, football. Flinn's favorite quote is: "Every person you meet, every single one, is looking for their story. There are no exceptions. You become part of it by how you treat them." -Anonymous