Multi-sport athlete Ethan Kremer transitions from football to wrestling
The two-time state champion works to have success in two sports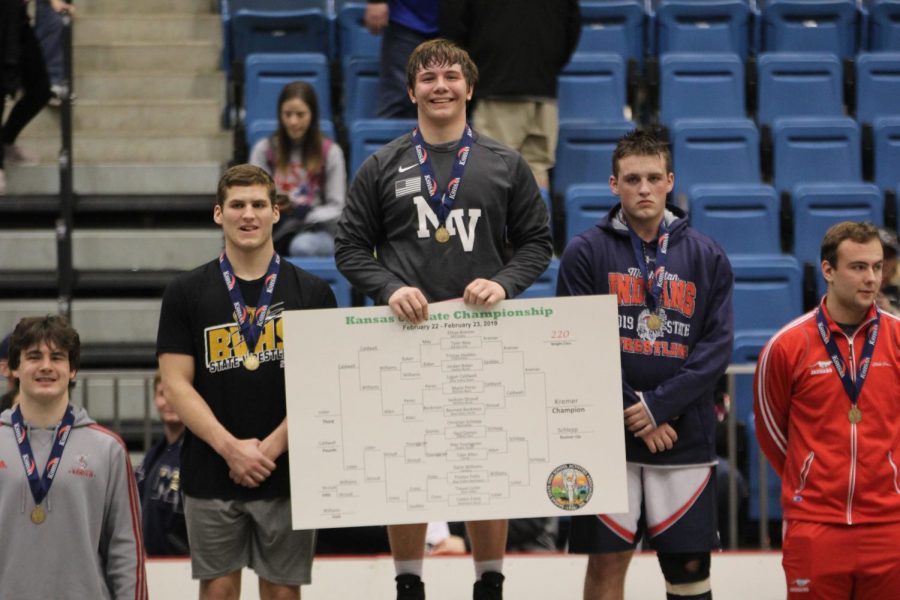 Junior Ethan Kremer has achieved great success in two different sports. He is a state champion in football and wrestling. He has been an All-EKL team member on both sides of the ball. He was an All-State team honorable mention last year. He is also the top wrestler in his weight class in the state of Kansas according to the Kansas Wrestling Coaches Association.
Despite the numerous awards he has earned, Kremer is focused on giving his all to whatever team he is on.
"The wrestling team has started practice but I'm joining them after football is done. Once I'm in one season I'm focused on that sport," Kremer said.
Head wrestling coach Travis Keal seems to have no problem with Kremer being a two-sport athlete. He believes that Kremer easily goes from one sport to the other.
"Ethan brings his best no matter what he does," Keal said. "So when his football season is over he will come to the wrestling room and continue to work hard. The transition is easy for him."
Kremer agrees that the transition from football to wrestling is smooth, in fact, he thinks that wrestling has made him a better football player.
"There's a lot of carryover from one sport to the other. Wrestling helps with football. Control, leverage and flexibility make things easier," Kremer said.
Another thing that helps Kremer stay in shape in the offseason is club wrestling, which is in the summer. Like wrestling with the school, Kremer said that it helps him on the football field, just in a different way.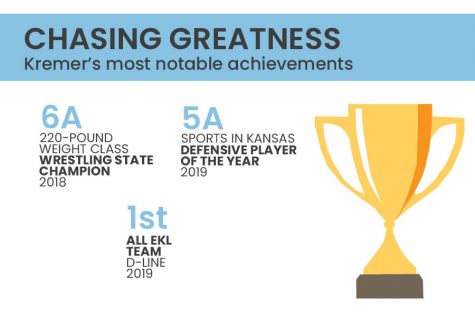 "There is more upper body which translates really well to football because that's what you're doing, especially on the offensive and defensive line," Kremer said.
Despite being heavily involved with two sports, Kremer manages to make it to most practices.
"I lift with the football players in the morning and I have wrestling practice after school. It can be a lot," Kremer said.
All of Kremer's hard work has paid off, he is a two-time state champion and will either play football or wrestle in college. According to Keal, Kremer's success has come from his high work ethic.
"[Ethan's success has come] from many years of challenging himself in all that he does in the classroom, football field, weight room and wrestling room," Keal said.
(Visited 130 times, 1 visits today)