By Luke Wood
Monday
November 20, 2022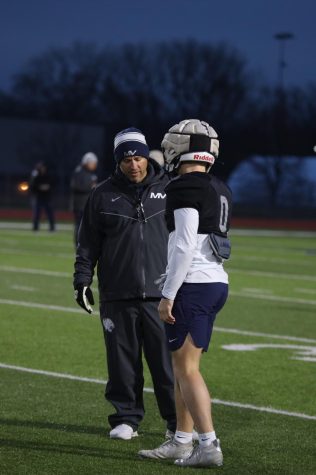 On Monday morning at 6:30 a.m., when most students are still sleeping or just crawling out of bed, weary-eyed football players are filing into the weight room to begin the first 40 minutes of their early morning. The team's regular Monday and Friday morning lift period, called "Zero Hour", is the official start to the new game-day week. Intense music fills the space of the weight room and main gym area as athletes grab for leg bands, weights and dumbbells to lead themselves through their regular Monday morning strength workout.
This early morning Zero Hour lift period takes football athletes through various strength and core exercises, building a sturdy foundation for the athletes to perform at a higher level come after school practice and game day. 
The reason for Zero Hour's early start time on Mondays and Fridays is to maintain a consistent, uninterrupted time for athletes to retain the muscle needed to be successful in a power sport as intense as football, according to defensive lineman coach Eric Thomas.
"Strength matters because all of the top teams lift. You can't just haphazardly lift," Thomas said. "You can be good if you decide to lift every once in a while, but you can't be excellent. You have to put time in the weight room and a lot of teams just aren't putting in that extra time like we are. Looking at our kids, you can tell that they lift and that goes a long way in a football game as well as for injury prevention."
"
Looking at our kids, you can tell that they lift and that goes a long way in a football game as well as for injury prevention.
— Defensive lineman coach Eric Thomas
When 7:10 a.m. hits, Zero Hour finishes and the boys gather for a brief team meeting led by head coach Joel Applebee, where a day-by-day breakdown of the week is laid out and team goals are gone over for the upcoming Friday night game and opponent. Applebee prefers to lead this team meeting by going through a PowerPoint containing such details.
"We try to model as best as we can, whether it's in practice, in a meeting or just outside in the community, the value of hard work, discipline and keeping a strong mindset of understanding making choices of what's best for you," Applebee said. "Whether those choices you make are right or wrong, in the end, you're going to learn to move forward with those choices you've made."
Following a brief punt meeting for the program's special teams at 7:20 a.m., the team is dismissed for the morning to go to classes.
Come Monday afternoon, after school has ended for the day, the team returns and divides into their positional units to go over the week's opponent scouting report, a report created by the coaches giving the team insight into what to expect from the week's opposing defense.
Opponent scouting time is a cornerstone to the football program's weekly routine, dedicating a little over an hour of the afternoon toward analyzing the week's opposing gameplay schematics such as commonly run plays by the opposing offense and defense and assessing which plays are more predictable than others.
"The importance of watching all the film that we watch is being able to know our opponent's moves before they do and making the correct play on our end to counter those moves," Thomas said. "Our kids are really smart. In terms of our starters, they all know what to do. When we're watching film and they see themselves they can almost immediately pick out what they did great and what may need a bit of work."
Opponent scouting takes up a greater portion of team time spent off the field earlier in the week as some players, like quarterback senior Hayden Jay, take up to four pages of notes weekly on opponent schematics.
"All this time we spend scouting our opponent really just lays out what we, as the offense and defense, will be working on for that week," Jay said.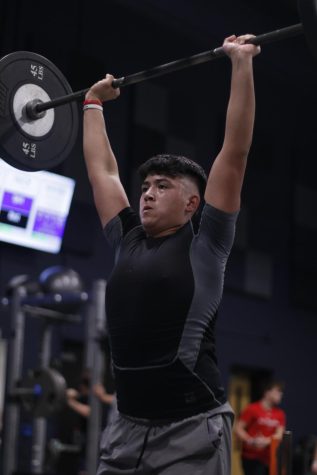 When scouting is finished, the team turns to reviewing their own film from the previous week's game as athletes turn to critiquing themselves for the upcoming practice. Film review concludes at 4:15 p.m. at which the team is dismissed to suit up for after school practice.
By 4:30 p.m., practice begins on the field under the harsh cold weather recently brought on by the postseason; athletes are often dressed in warm layers, a stark contrast to what their practice wear typically looks like at the beginning of the regular season. Typically lasting shorter than practices for the remainder of the week, the team divides back into their positional units and runs a multitude of different plays and agility drills for Monday's practice. 
"All after school practices are divided into periods," Thomas said. "In the first nine periods, which are four minutes each, we, as a defensive line, focus on technique which usually consists of a warmup. Then, we move into some type of crucial technique which deals with what plays we plan on running come Friday night. Later into practice, each position group focuses on different aspects of football where we do a walk through of what plays we're going to do for that week's game; that part varies for offensive and defensive players. Cycling through the different plays with our different strings of the offensive and defensive lines make up the rest of what a typical practice would look like."
By 6:00 p.m., when the stadium lights have switched on to combat the sunset, the team is dismissed to go home for the evening.
(Visited 1 times, 1 visits today)