Mill Valley moves up to 6A athletic classification
Mill Valley qualified for 6A classification with 1,340 students enrolled, making our school the smallest school in 6A
Abby Riggs, JagWire reporter/photographer
November 10, 2022
For only the second time in school history, Mill Valley has been moved up into the 2022 6A classifications. To be considered 6A, a school must be in the top 36 largest schools in the state of Kansas, which Mill Valley hasn't been since 2018. 
At 1,340 students, Mill Valley is the smallest school in 6A. It beat out Hutchinson for the last spot in 6A with only 34 more students enrolled. It will now compete against schools almost double its size, like the largest 6A school, Wichita Southeast, which has 2,430 enrolled students. 
The change in classification leads to many sports being put in a unique predicament as they now have to compete in the postseason against a different set of schools than they have in years past. While this may make competing at state more difficult, it doesn't make it impossible. While previously competing at 6A in 2018, the girls cross country team and girls golf team both brought home State Championship titles.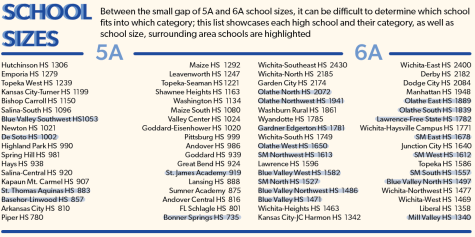 Sophomore Meghan McAfee is a returning member of the varsity girls cross country team. Last year, the team won the 5A state championship. This year, however, they are competing against even tougher teams in 6A. 
"[Moving up to 6A] makes competing at state way harder. If we were still in 5A, we would most likely win, but in 6A, Olathe West is a very dominant team this year so we might not win," McAfee said. 
This sentiment is shared by boys soccer coach Jason Pendleton who believes moving up to 6A will make the road to State more difficult for his team. 
"There is more depth of good teams in 6A," Pendleton said. "It will be more difficult to advance in 6A, but the top few teams in 5A are as good as the top few in 6A."  
McAfee believes that becoming 6A will affect how the cross country team prepares for State.
"[Moving to 6A] changes how we are preparing mentally because if we were going into 5A state we would have had the pressure of being expected to win, whereas in 6A, we're not expected to win, we're just working to be on the podium," McAfee said.  
While many sports feel the change in classifications has put them at a disadvantage, junior Kaitlyn Burke explained how the volleyball team faced easier competition at 6A substate than they did last year in 5A.  
"I think that in both 5A and 6A state is going to be tough," Burke said. "We're ranked third in 6A, so that gives us an advantage because we probably wouldn't have been ranked as high in 5A. Last year when we were 5A, we got put into a pool with St. James [at substate] which made getting to state really hard because they are typically one of the top teams."  
All sports are being affected by this change in classifications, with the exception of football and girls tennis. Girls tennis classifications are determined based on the previous years' enrollment, so the team will move up to 6A next year. However, football classifications are determined based on different requirements than any other sport. Not every school has a football team, so, only the 32 largest schools in the state are considered 6A when competing in the football postseason.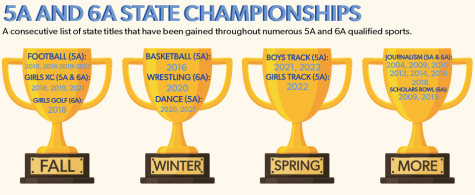 While switching to 6A has its downsides for many sports, one thing that most teams can agree upon is that escaping competing against the private schools that dominate 5A across many different sports is a silver lining. Athletic director Brent Bechard notes how this is one positive aspect of moving up to 6A. 
 "It is no secret that the private schools are very dominant across 5A," Bechard said. 
The girls golf team experienced a lot of added difficulty competing at state at the 6A level. Last year, while competing in the 5A division, the team placed third overall at the state tournament. This year, however, only two athletes were able to qualify as individuals and the team as a whole did not qualify for the tournament.  
Golf coach Chris Wallace explained how the change in classifications negatively affected the team. 
"If we had stayed 5A, we would have qualified for state as a team and probably would have placed or come close to placing," Wallace said. "If you would have taken their scores and put them in 5A, [both individual players] would have medaled. They played their best all season at state, which is what you'd like to see."
(Visited 430 times, 1 visits today)