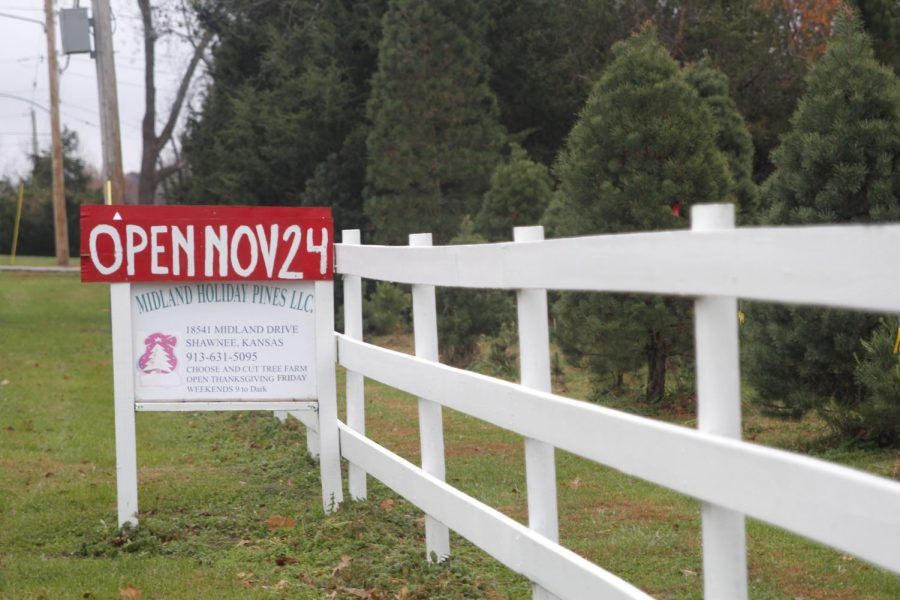 Midland Holiday Pines brings families together in Shawnee during the holiday season
By Avery Liby
Midland Holiday Pines brings families together in Shawnee during the holiday season
The farm has provided Christmas trees since 2002
Right off Shawnee Mission Parkway on Midland Drive, a modest, white house peeks from behind the trees. In front reads a sign that says "Midland Holiday Pines."
Midland Holiday Pines, owned by Phil and Judy Wegman, has been selling Christmas trees for the past 15 years. The farm is seven acres of land filled with Scotch Pines, Austrian Pines, White Pines and Frasier Firs.
Phil wanted to take something his family loves and share the experience with other families, thus making Midland Holiday Pines.
"Our family had always enjoyed going to Christmas tree farms and cutting down our own tree," Phil said. "When we bought this property, after we decided not to build [an additional] house, we figured why not try growing Christmas trees?"
The farm opens the day after Thanksgiving each year with a lot of preparation leading up to the opening.
"We put up signs, send out a mailing to all of our previous customers and make sure there aren't any obstacles around the farm that anybody could trip on," Phil said. "We try to make the farm as clean as possible and as appealing as we can."
Along with Christmas trees, the family sells wreaths and additional products in the garage of their house.
"We have a variety of wreaths to sell to people when they come in because a lot of people want wreaths along with their Christmas trees," Phil said. "We get our little Christmas Shop ready to go with other kinds of items, and we line up the help we need because it's a lot of hard work doing this."
Phil enjoys being able to work so close with his family.
"It's kind of a bonding that we have here. We all pitch in and work together because we all have the same goal in mind," Phil said. "I think my favorite part is when this time rolls around and both of my daughters can be here."
Sophomore Kayla Middaugh, who has gone to the farm with her family for four years to get a tree, believes the employees are knowledgeable and enthusiastic in the process of getting a tree.
"There are rows of trees you can navigate through until you find the tree you want. All of the trees available have tags listing the price and size of the tree," Middaugh said. "Once you find the perfect tree, an employee will help you cut it down and carry it to the front where they cut off extra branches, wrap it in a net and attach it to your car. Everyone who works there is really nice and helpful."
The appeal and friendly environment the farm brings to Shawnee is something Phil enjoys.
"It brings aesthetic value. People tell us all the time that our little farm is so pretty and they like coming out here. It's a pleasant place to come out and get your tree," Phil said. "I think it creates memories, and that's what I like about it."

(Visited 1 times, 1 visits today)