Methods of getting news differ between students and teachers
As methods of communication have changed, the way news is spread has evolved
March 12, 2015
Sitting at her desk before class, sophomore Claire Allen opens up her BBC app and sees a story about Google and Apple creating a "smart car," or a car that can operate like a smart phone. Using apps created by outlets such as KCTV5, Fox News and BBC, Allen reads news articles like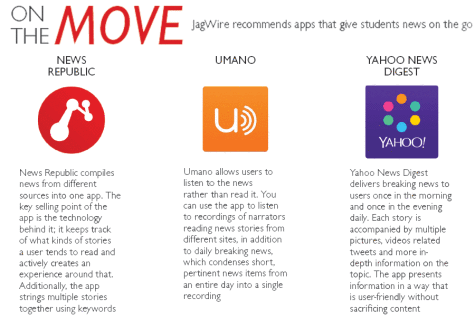 these every day. Allen's interest in current events is a new occurrence.
"I used to not really care about the news, and then I started using apps," Allen said. "They are so much faster … I can just look at the headline and get a glimpse at what is going on instead of watching an entire news program."
Allen is one of many students that get their news from digital sources. A JagWire survey of 145 students found 70 percent of students get their news from the Internet and social media. According to Pew Research Center, 71 percent of young adults in the U.S. use online sources as their means of staying current on events.
Although not as common as getting news digitally, watching TV news is still popular amongst students and adults. A JagWire survey of 145 students found that 19 percent of students watch TV news. Nationally, Pew Research Center found only 55 percent of young adults find their news on TV.
Junior Sydney Hanson is one such young adult — she primarily gets her news by watching it on cable TV.
"I feel like on TV, I know it's biased but a lot of it is more accurate than information off of social media from [primary] sources," Hanson said.
Despite an increase in the amounts of ways to find news, 29 percent of young adults do not actively read (either on paper or on cell phone) or watch news. This figure has continually been smaller than the amount of adults that go newsless, with the average adult spending more than one hour reading the news each day.
Broadcast journalism teacher Cindy Swartz uses both TV and technology to find her news.
"For watching television, I think that has a lot to do with the way I was raised," Swartz said. "My parents always watched the news. Of course, me being a broadcast teacher, I always like to see what the different news stations are doing and how they organize. I [also] follow certain news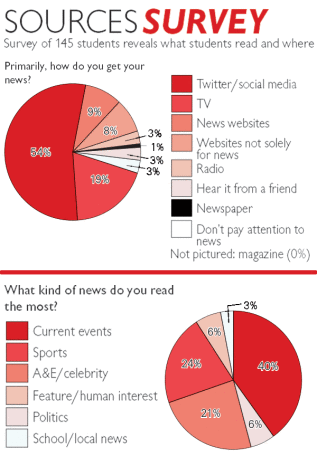 stations on Twitter. So if there are new updates or [events] that are happening, then I could easily get it 24/7."
According to Pew Research Center, about eight percent of adults get their news from Twitter, while 30 percent go to Facebook to find current events.
Around 33 percent of adults still get their news from the radio, a number that has been decreasing since 2000 due to the new advancements in technology. A JagWire survey found that only 3 percent of 145 students primarily get their news from the radio.
Communication Arts teacher Kristen Crosbie primarily hears news via 96.5 the Buzz each morning.
"I get the paper or have cable, so I don't watch or read the news," Crosbie said.
With the popularity of using social media and online sites to find news, there are always pros and cons to such an advancement.
"For good reasons, you get your news pretty [quickly]. But … people could [also] upload things that are too hasty, incorrect and inaccurate," Swartz said.
Despite the possible negative effects, business teacher Adam King still agrees that Americans should make time to keep current on events.
"One of our duties as a citizen of the U.S. is to be current on what is happening," King said. "[It is important to] know what our legislatures are doing and how things are being handled at different political agencies throughout the country."
(Visited 11 times, 1 visits today)