Media center specialist Andy Shelly has seen changes to library and technology
Shelly adjusts to changes in the media center since the school opened
February 9, 2015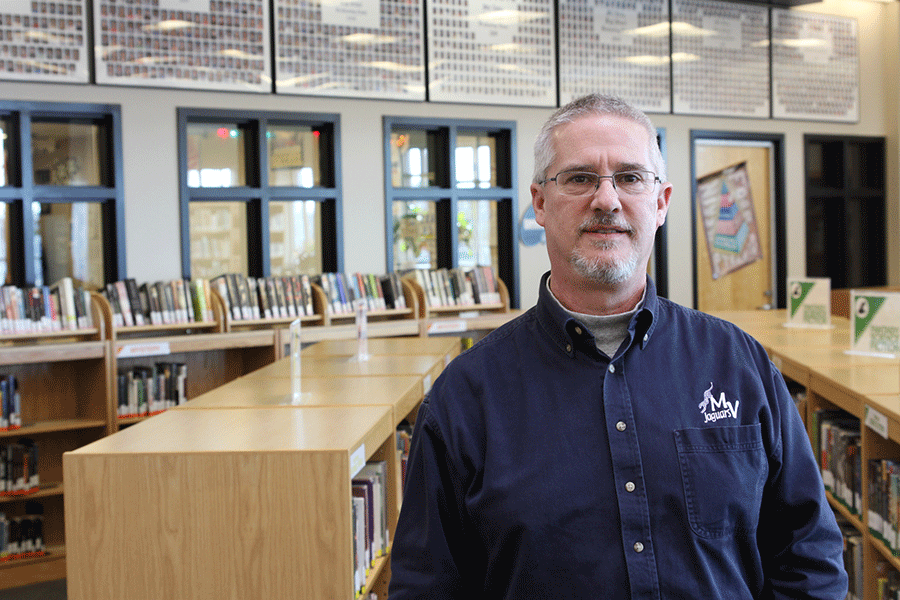 Media center specialist Andy Shelly has been a part of the school's media center for the past 15 years, and he's been able to watch it change considerably throughout that time.
In the time that he's been here, Shelly has seen the number of books in the library increase by "quite a bit." He's seen the addition of more seating during the renovation of the C Wing, during the second expansion of the school. He's also seen the changing technology, as the library's resources for teachers have moved from videotapes to DVDs. More recently, the library has also switched its fiction section that organizes books by their genre instead of by the author's last names.
Shelly has enjoyed watching what he sees as a very positive change occur in both the media center and the school as a whole.
"There's a certain amount of energy that comes with having more people involved, students as well as faculty," Shelly said. "That's been fun, to see that growth. It means things always kind of change, and it's been fun to be a part of that experience."
"
It's different every day… It just kind of happens like clockwork"
— Media center specialist Andy Shelly
For library aide Sandy MacGill, who has worked in the library for 12 years, working with Shelly has been a unique experience.
"[Working with Shelly] has been great," MacGill said. "He's actually one of the few men I've worked with. Most librarians are women, and it's nice to work with a man for a change. You get a little different perspective, but that's okay. That's a good thing."
In addition to being a part of Mill Valley from the very start, Shelly has been a school librarian for several years prior to his career here. He was originally a regular teacher before he decided to become a librarian. After deciding to become a librarian, Shelly was a librarian at Sumner Academy in the Kansas City Kansas school district. After this, he worked as the librarian at De Soto High School until Mill Valley's inception in 2000. Shelly made the decision to become a librarian because of his experiences as a regular teacher.
"I used to be a classroom teacher," Shelly said. "But I enjoyed interacting with teachers in different departments and saw the library as being a way to be able to interact with the entire staff in the building instead of just one department or grade level."
Shelly enjoys his job because of its unpredictable nature.
"It's different every day," Shelly said. "It just kind of happens like clockwork, that something's different every day, something's always happening so that keeps me more engaged in that respect, and I like that."
(Visited 80 times, 1 visits today)