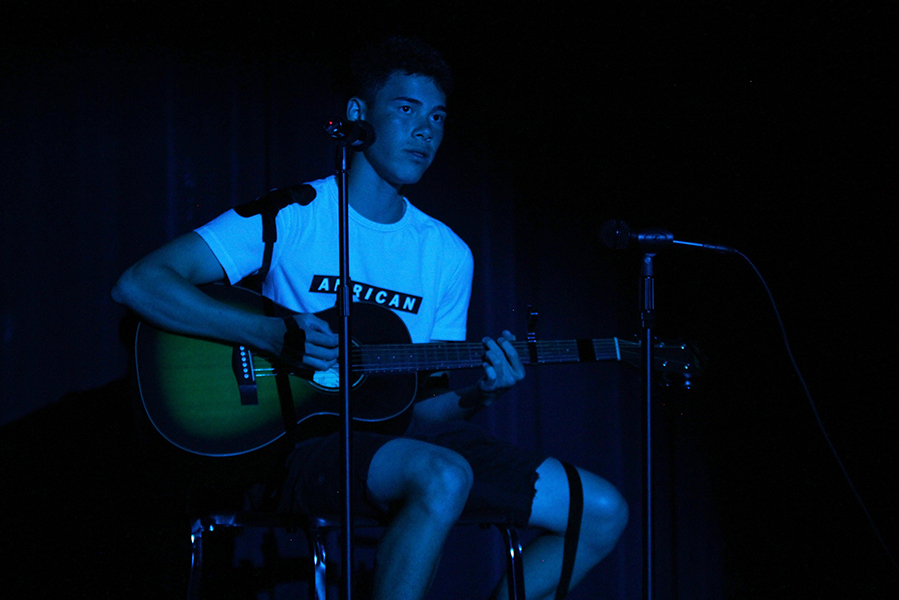 Mayhem Week: Students face-off in annual "Mill Valley's Got Talent"
Junior Anna Paden took first, the saxophone quartet "Sax Appeal," made up of seniors Marah Shulda, Tyler Jeanneret and Tommy Tanaka and sophomore John Fraka, took second and senior Eric Schanker took third at the competition
Students competed in "Mill Valley's Got Talent" on Thursday May 2 in the Little Theater, with junior Anna Paden taking first, the saxophone quartet "Sax Appeal" featuring seniors Marah Shulda, Tyler Jeanneret and Tommy Tanaka and sophomore John Fraka taking second, and senior Eric Schanker taking third.
Acts at the talent show ranged from stand up comedy to covers of "Thunderstruck" by ACDC.
Paden, who sang "I Say A Little Prayer" by Aretha Franklin, was very pleased with how her performance went and how it was received.
"I thought I did pretty well; my nerves were surprisingly calm. I was just pretty chill about the situation," Paden said, "I thought the crowd was very receptive to it. I tried to incorporate the crowd a lot."
When it comes to her placement, Paden is more than happy.
"I feel great. You know, it could have been anybody else, but it was me, and I'm very grateful for that." Paden said, "Everyone was so talented, and at the end of the day, we're all winners."
Junior Eva Burke, who performed "Toccata" by Vandal on the piano, tried something new this show.
"I played a more difficult piece, because last year I played a song that I had learned several years before that, and this one was new," Burke said, "It was more spur of the moment, so I think there was more emotion and the piece, or more energy."
Looking to the future, though Burke is unsure whether she will compete again, she wants a piece that will be more familiar with the crowd.
"I'd want to try and sit up a bit and find a song that appeals more towards the audience, because I've only done songs that I'd play for a festival," Burke said, "They're just piano songs, [I want] something people know."
For Paden's future performances in Mill Valley talent shows, things are a bit more clear-cut.
"I would, but according to the rules, I don't think I can," Paden said, "because I won I can't do it next year, so there's that."
(Visited 73 times, 1 visits today)