Mayhem week kicks off with teacher vs. senior basketball game
Teachers claim a victory during the StuCo hosted basketball game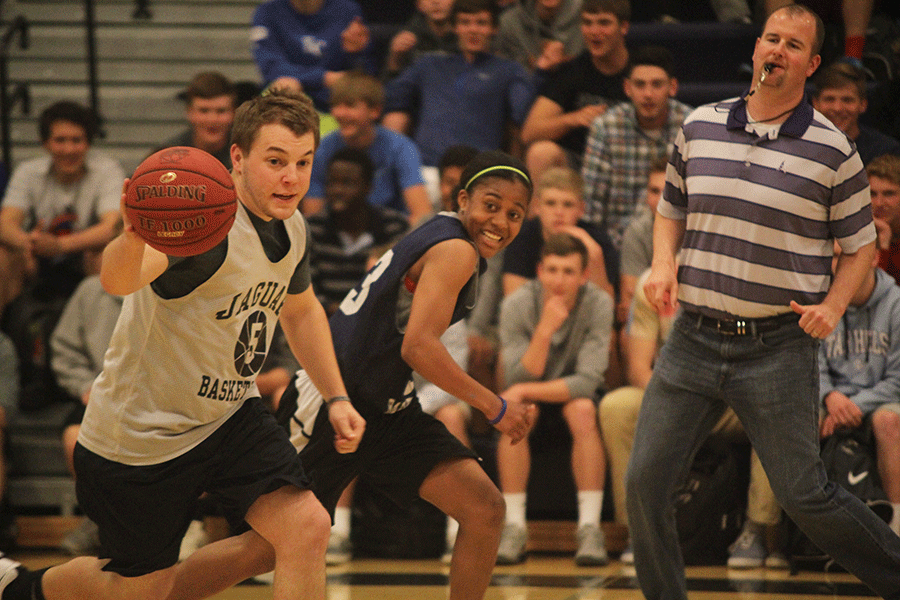 StuCo hosted this years teacher vs. senior basketball games, and though the students hoped for a better outcome,they lost 11-43.
Senior Jabria Leggett had high hopes going into the game, but those feelings changed once the game ended.
" My hope was that they would at least let us score," Leggett said. "[I] was disappointed that they won the games."
Math teacher Alex Houlton aimed to come out unharmed and with a victory.
"My number one goal was to not end up on crutches the next day, and winning would be nice,"  Houlton said.
Houlton said the teachers made their game plan ahead of time.
"Some of us [teachers] play pickup basketball games on Friday mornings, but not all together," Houlton said. "[Our strategy is to] have more people than them, wear them out to do more sub-ins and to also let our shooters take care of business."
Leggett's knows the senior team could have done better if they had more height on their side.
"We tried our best. They had the advantage because they were taller than us," Leggett said.  "[Next year's class will] need some tall people."
Houlton agrees with Leggett, however the students' athleticism was a challenge for the older team.
"[I feel] that we had more height and crafty old man game," Houlton said. " [It's challenging] because they are in much better shape than us."
Despite losing, Leggett had a good time playing with the teachers.
"It wasn't unfair. We were just out there having fun," Leggett said.
(Visited 37 times, 1 visits today)