Marketing students prepare for opening of Catty Shack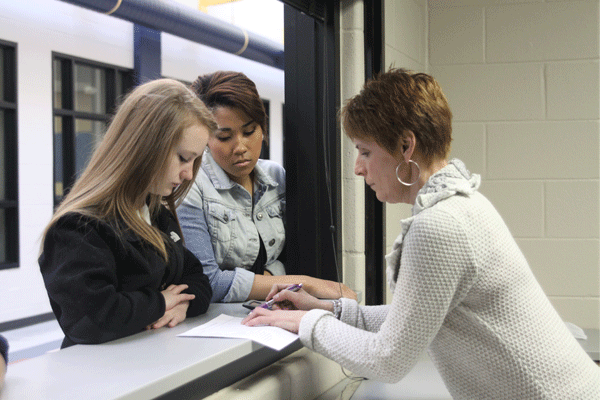 As students painted jaguar print on the wall, business teacher Dianna Heffernon helped organize the merchandise for the anticipated opening of The Catty Shack, the school store, on Monday, Jan. 28.  Since the beginning of last year, Heffernon's Integrated Marketing Class has been practicing their small business skills in order to prepare for the opening.
"[Opening the Catty Shack] has been a very hands-on experience," Heffernon said. "[The students] get to put everything they've been learning into play."
In order to open the Catty Shack, marketing students have had to find a venture capitalist, survey the student body, create the infrastructure, order and price inventory, create a store policy and the work schedules.  Senior Kendall Short worked with ordering inventory and creating prices, which he said was difficult in the amount of time they had to work with.
"[We had to] figure out prices and what we wanted to sell in the store," Short said.  "There was so much to find out in so little time.  It was kind of a rush."
Junior Jasmine Hitt helped with painting the outside of the Catty Shack and organizing the inventory.
"It has been a lot of work," Hitt said. "In the end I'm sure it will be worth it when we open."
The Catty Shack will be open before school, after school and during seminar.  Its inventory will include spirit wear, a variety of school supplies, including posterboard and notecards, as well as food and beverages.
"It's a huge risk. We have no idea if we're going to sell one product so that's kind of unnerving," Heffernon said. "We just hope that we get it right."
(Visited 11 times, 1 visits today)
About the Writer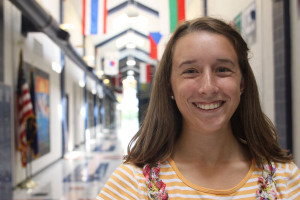 Ellen Bodine, JAG editor-in-chief
Senior Ellen Bodine has been on the JAG yearbook staff for two years, first as a section editor and now as an editor-in-chief. Outside of journalism, she is involved in girls golf, NHS and Ambassadors. In the future, Bodine hopes to work for the National Archives, have several pet dogs and travel the world. As for now, she looks forward to creating another excellent edition of the JAG and graduating at the end of the year.