Marching band places second at Emporia State University Marching Festival
Band received a I rating of 84 points out of a possible 100 points.
Emma Clement, JagWire editor-in-chief, Mill Valley News editor-in-chief
October 7, 2022
The marching band traveled to Emporia State University for the annual Emporia State State Marching Festival Wednesday Oct. 5. The band received the highest possible score, a one, and placed second overall.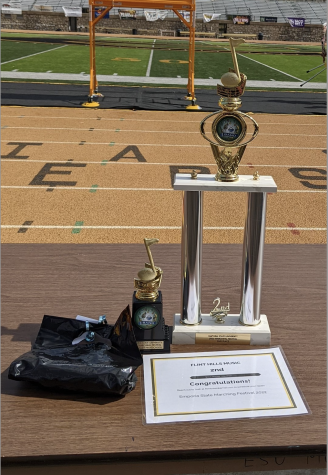 According to band director Debra Steiner, the band did well by making improvements from last year.
"The biggest improvement we made is in our sound and our ability to play the music," Steiner said. "Just as equally, our marching has improved so much from last year."
Senior Brody Shulda played a baritone solo at the festival in addition to playing with his section, low brass. For Shulda, many of the band's improvements can be attributed to the decline of COVID-19.
"Last year, we were coming off of COVID, so a lot of people hadn't gotten an opportunity to play and definitely not march either," Shulda said. "So we had a lot more experience than last year with everyone. I feel like we're all ready to get back into it more than we were last year."
Despite their success, the band still has some improvements to make before the Central State Marching Festival at Kansas State University in two weeks. Senior Kate Hereth, section leader of the color guard, thought there were some improvements to be made within the section, and recalls some of the mistakes made at the festival.
"There were just some moves people missed," Hereth said. "There were times when we weren't performing together. We weren't in sync, so it just looked off and it looked wrong. We had some flag [malfunctions], [junior] Olivia Peters, her flag literally came off the pole. That was unfortunate."
Looking forward, Steiner hopes to focus on perfecting the smaller details within the show.
"There's a lot of things that we need to do that are little details that need to take us to that next level: musically getting all of the nuances in some more dynamics and things like that and then marching is just making sure that everybody is an independent person on the field and they know exactly where they're going," Steiner said. "[We also need to be] making all those moves crisper and sharper."
(Visited 208 times, 1 visits today)