Low salaries drive paraprofessionals away from the district
There are currently seven paraprofessional openings in the district
By day, paraprofessional Robin Roberts helps students with special needs do their classwork. By night, when many other professionals head home for the night, Roberts works her second job at Embellish Boutique, helping at the cash register and taking inventory.
Making just $12.75 per hour, paraprofessionals like Roberts often struggle with monthly expenses living on a single household income in Shawnee and turn to a second job to make ends meet.
Roberts has worked as a para for the district since March 2018 and acquired her second job in October 2018. With one income from that position, she soon realized that, to be able to afford to live in Shawnee, she would need to obtain a second job.
 "The obvious answer to why I decided to get a second job is money. Paraprofessionals do not get paid much, neither do teachers," Roberts said. "There is just not a lot of money to budget for salaries across the board. This isn't anything new. Educator's pay has always been a sore subject."
Roberts is not the only para in the district who has had to find another means of affording the cost of living in Shawnee. Paraprofessional Emily Borchardt has also struggled to afford the cost of living. 
Borchardt decided to split rent with a roommate in June as a way to afford living in the Shawnee area. 
"
Paraprofessionals do not get paid much. Neither do teachers."
— paraprofessional Robin Roberts
"I do not have enough money because I don't get paid enough money to live on my own, so my roommate and I split the cost of living," Borchardt said. "My roommate was best friends with my older sister, and when my sister left for college, her and I became friends and decided to live together."
Roberts believes that her current salary should be increased by at least 50% and is upset with the low budget for education in the state of Kansas.
 "I feel teachers, staff, and paras should get paid so much more," Roberts said. "It's sad our nation, let alone Kansas, has always paid our educators a ridiculously small amount."
Currently, the district's base level one starting pay for paras is $12.75 an hour while other Johnson County public schools having slightly lower starting salaries. Olathe Public Schools recently raised its starting salary for paraprofessionals to $14 an hour.
The district tries to match the highest hourly pay of the other districts, but District director of human resources Carrie Handy is unsure if the district will be able to match $14.
"I don't know if we can get to $14. We might get it to $13. We just don't know where it's going to go because we always have to look at what kind of funding we're going to have," Handy said. "There are some set costs like our bus contract, but there are also different things that we have set increases for, such as health insurance."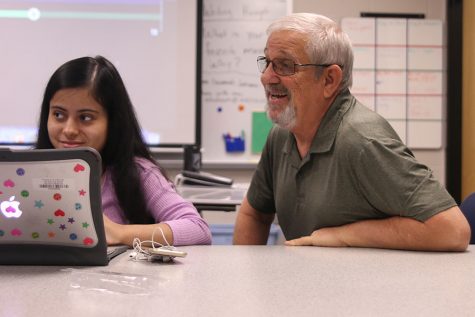 Handy said that the district was able to help a para who was unable to get an additional job and struggling to live on her current salary by granting her with money from the Student Care Act.
"This year, one para was really struggling with some life circumstances, and obviously the income that she was bringing in was not going to be enough, and we were able to utilize the student care fund," Handy said. "A check was written to help pay for some of that para's expenses that they have that were extraordinary." 
"
I don't get paid enough money to live on my own, so my roommate and I split the cost of living"
— paraprofessional Emily Borchardt
Although Handy understands paras' frustration with their salary, she stated that there are many contributing factors that play a role in the annual salary of classified staff.
"We meet with area HR directors and then we determine the going rate based on that," Handy said. "We do a lot of research that goes into that. Then as the district gets new money, whatever ends up being negotiated for our teachers, we then apply that same percentage to our classified staff members as well." 
Due to the low salaries and new job opportunities at companies like Amazon in Gardner, the district has experienced an increase in the number of unfilled para jobs throughout the district. Starting pay at Amazon is around $15 per hour.
The district normally has two to three unfilled positions, but the current number of unfilled positions this year is nine, as of Nov. 5. This increase in unfilled positions has been felt by other districts as well, with Olathe Public schools seeing 45 classified staff openings.
Director of Secondary Personnel Brian Schwanz stated that the district has also been noticing the number of open para positions and has been working to solve the problem. 
"With our openings, we will post them on our website, and we've actually started posting our openings on Indeed," Schwanz said. "When we post them on our application site, Frontline, it also automatically gets posted on the K12 Job Spot and a couple other sites that they have that they work with, which has helped us get some more applicants in that in that realm."
Schwanz believes the number of open positions for paraprofessionals is in conjunction with the historically low unemployment rate in Johnson County.
"I think part of the reason why there are so many openings is the unemployment rate in Johnson County. The unemployment rate is at historic lows around 2.83%," Schwanz said. "There's a lot of other businesses that have opened up as well … so we're lucky to only have nine openings."
While the low pay rate can be a negative effect of being a para, Roberts believes that there are positives to the job, such as the medical benefits she receives. Prior to working for the district, Roberts paid for an individual health insurance plan. This plan increased nearly 40% within one year, raising her deductible to $16,000 and prompting her to acquire a full-time job to lower the cost of insurance. When she got the job as a para, the health benefits the district offers saved her roughly $800 a month.   
"One of the main reasons I was looking for a full-time job was due to the cost of individual health insurance," Roberts said. "I'm so thankful I was able to partake in the medical insurance within the school district."
Schwanz agrees that there are a variety of benefit options for district employees including standardized single person and premium benefit options.  
The district also provides disability, which many districts in Johnson County don't do, and offers a paid-for life insurance plan for $50,000, according to Handy.
Loading ...
The benefits and the pay have affected many different staff members, and para and retired firefighter paramedic Mike Pierce is no exception. He had cancer a few years ago and had many medical bills he still needed to pay off, so he decided to get an extra job working as a paraprofessional to pay off his bills and make money for retirement.
"Pay isn't too great [in the district] as a para, but you know we don't do it for the pay, we do it for the kids and we enjoy them. I had cancer a few years ago, and I had some large medical bills I needed to pay off, so that's why I need to get an extra job," Pierce said.
Working as a paraprofessional for the district, Pierce realized that his annual salary would not allow him to pay off all his medical bills and afford basic life necessities so he sought out a second job.
Despite the low wages of paraprofessionals, Roberts is happy being a para and feels as if it is her calling. She thinks that if she was presented with a job opportunity that paid better and had better employee benefits, she would still decline their offer and continue to work as a para.
"[If a higher paying job opportunity came up], I doubt I would quit being a para. I am so happy working with these kids," Roberts said. "I get so much joy just being around them and seeing them grow into adults."
The searchable table below displays district salaries for 2019. Type "paraprofesssional" into the search bar to view all para salaries, or search for a specific para. The district's highest paid para, Ron Peters, is only the 655th-highest paid district employee. 
(Visited 3,050 times, 1 visits today)