Longtime friendship gives football team advantage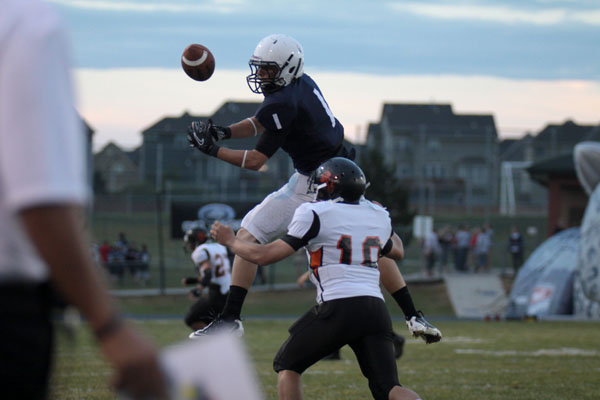 With the first two wins under his belt, junior wide receiver L.J. Hatch knows that he holds an upper hand against other Kaw Valley League teams. Hatch is able to depend on his longtime teammate junior quarterback Skyler Windmiller.
"Skyler and I have been playing together for a long time, so we really know each other's tendencies," Hatch said.
Windmiller has been playing alongside Hatch and has been his best friend for as long as he can remember. The two started in the fifth grade playing for the Little Jags. The boys have been playing together for six years, now at the high school varsity level.
"When we were little kids, we didn't pass much, but when we did, I always looked for L.J," Windmiller said. "It stayed the same way as we got older. Even though others kept improving receiving skills, I feel like he'd always be the one who could catch it."
After receiving seven catches from Windmiller at Friday's home game against Bonner Springs High School, it is apparent that Windmiller and Hatch have a connection for success.
"He and I can run one play, if it doesn't work; I swear both of us will think the same exact thing," Windmiller said. "It may not be what the coaches ask of us, but it always gets the play to work."
As well as the two work together, both players know independence is key in attempt to make All State. The prestigious ranking is voted upon by coaches around the state for who the top player in each position is. Windmiller was ranked in the top five for quarterback during the 2010-2011 season, while Hatch is reaching for a first time recognition ranking this season as receiver.
Early in the season, Hatch knows the responsibilities placed upon him and Windmiller.
"We have to be leaders and help the guys that will be starting after we're gone, the ones following in our footsteps," Hatch said.
(Visited 9 times, 1 visits today)
About the Writer
Alana Flinn, JagWire editor-in-chief
Alana Flinn is a third year staffer who is looking forward to a year full of new experiences. As editor-in-chief, Flinn hopes to finally win a Pacemaker for Mill Valley News while maintaining the quality of JagWire. She will also continue to report on her favorite sport, football. Flinn's favorite quote is: "Every person you meet, every single one, is looking for their story. There are no exceptions. You become part of it by how you treat them." -Anonymous