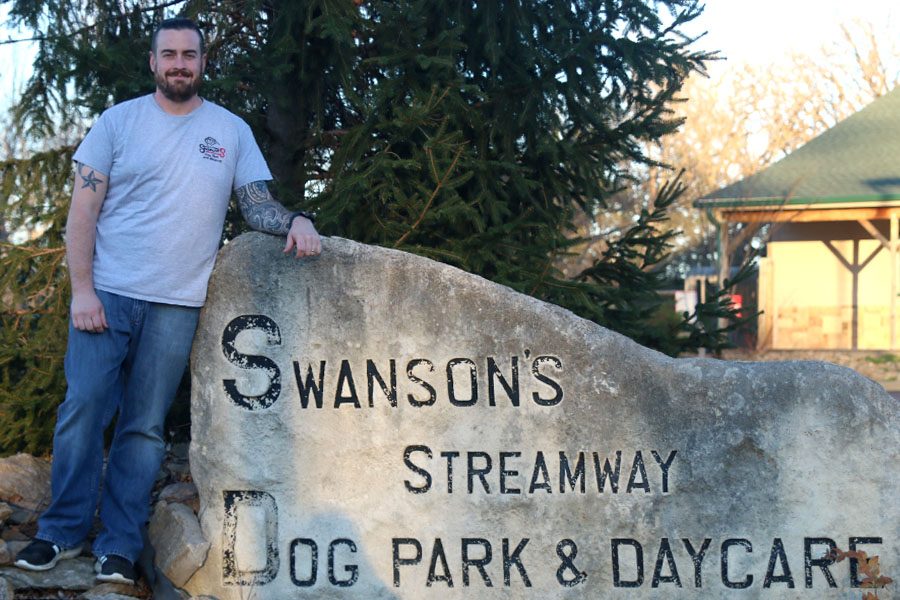 By Annie Myers
Local dog park and daycare center unites dog owner community
Swanson's Dog Park and Daycare provides services that allow dogs and owners to interact with the business as well as other dogs
Walking up to the gate of the fenced-in, off-leash dog park at Swanson's Dog Park and Daycare, two four-legged clients run up to greet the man who, along with help of staff members, has been taking care of them for the past few days. Co-owner Brad Swanson instantly recognizes them by name as Jackson and Madison, and the two bark and wag their tails at him before running off to continue playing.
Throughout the year, Swanson's sees countless clients like Jackson and Madison, who along with their owners, enjoy the many amenities that it brings to the Shawnee community.
Located at 6241 Woodland Rd., these amenities includes a six-acre enclosed park that requires proof of vaccination of all dogs to ensure the safety of those who enjoy it.
"Shawnee Mission Park is a beautiful park, but it really isn't governed on who can go," Swanson said. "We have a lot of clients come here because they have the place pretty much to themselves."
Along with the dog park, Swanson's offers doggy daycare and boarding for dogs of all sizes and personalities. When their dogs are staying at Swanson's, owners have options to choose from regarding their dog's stay.
"When [dogs] come and stay the night, our clients have two options of where their dogs can stay: either in our normal kennels, or we offer doggy suites," Swanson said.
Swanson's offers several different themed suites for their clients, ranging from poker-themed to Sporting Kansas City- and Royals-themed suites. While some clients may choose these suites to pamper their animal, Swanson says they serve as a solution for dogs that require special care.
"These [suites] serve a purpose," Swanson said. "We get a lot of dogs that would much rather be in a quieter area. Whether it's a medical thing or they're skittish, some people like to do the suites because it's just more comfortable for their dogs."
Swanson's not only caters to dog owners, but also to the Shawnee community in general.
"I think I've hired six or seven Mill Valley kids since we've opened," Swanson said. "They're already part of the community, so we're just kind of deeply seeding ourselves with our clients and with our employees."
As a member of the Swanson's team, senior Brynn Rittenhouse sees the significance of the business in regards to the community.
"Swanson's has impacted the community by taking away the stress associated with leaving a dog home alone for an extended time by having somewhere close and well-established for owners to bring their dogs," Rittenhouse said.
Swanson's not only provides a home away from home for their client's dogs, but also a second family of sorts, according to Swanson.
"We're in our 11th year," Swanson said. "So, dogs that we started seeing coming in the beginning have since passed and we feel like they're a part of our dogs too."
Overall, Swanson's prides themselves on putting the dogs first, according to Swanson.
"Sadly, we don't know any of our clients by their first names; we know them by their dogs," Swanson said. "But I think people appreciate that because that's our job — to focus on the dog and not them."
(Visited 70 times, 1 visits today)