Local coffee shop gives back to various charities
Cause Coffee, located in De Soto, is a nonprofit coffee shop that gives back to various charities
A barista walks in through the back door of the coffee house and gets ready to start her shift. However, she does not clock in. This is because she is working purely as a volunteer, like all of her coworkers. Cause Coffee is a nonprofit that donates 100 percent of its proceeds to various charities. Additionally, Cause focuses on using natural, fair trade and mostly organic products.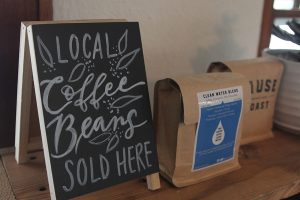 After many years in the coffee business, owner Tara Stuke wanted to combine her love for coffee as well as helping other people, according to daughter and barista Cheyenne Lowe.
"[Stuke] had a desire to create good quality coffee and combine it with her passion for reaching out to the world," Cheyenne said. "The goal here is that we give [customers] quality coffee but also reach out to people's hearts and change their lives."
Each month, Cause Coffee selects a different charity to donate their proceeds to. This month of May, they chose give back to a school located in Sebaco, Nicaragua that barista Colton Lowe has visited.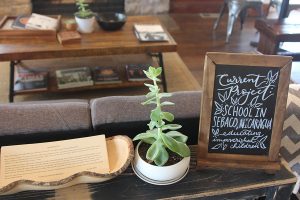 The coffee shop has not only had an impact through the charities that they donate to, but with the De Soto and surrounding communities as well.
"[There are] a lot of levels that Cause has had," Cheyenne said. "We have an impact locally with the community. Just bringing the community together [by] giving them a cool place to hang out, place to get good snacks, good drinks … and then it goes on broader than that and is impacting the world and other countries so it's kind of a multilevel impact going on."
Senior Caroline Gambill loves the mission that Cause has.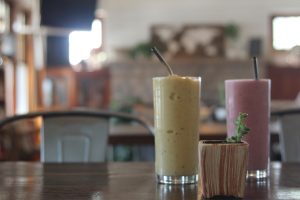 "I like Cause Coffee because they have high quality drinks and menu items, but instead of being a typical coffeehouse it's all nonprofit," Gambill said. "I love knowing that my caffeine addiction is actually helping people in need and doing good in the world."
According to Cheyenne, her hopes for the shop were exceeded.
"We didn't really know what to expect, but we were just going to go forward full steam and see what happened," Cheyenne said. "Any expectations we had have just been blown out of the water with the response and the positive impact [Cause Coffee] has had and how people have just gotten on board."
When choosing the charity to give to, they look at the current need for a variety of causes and base their choice on that, according to Cheyenne.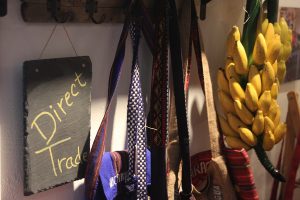 "We have a lot of other places chosen already," Cheyenne said. "We are going to be giving to orphan care in different parts of the world and clean water I know is coming up. So, it will kind of be different every month, but whatever it is will be a big need that is out there."
Gambill believes that the fact that Cause is nonprofit sets it apart from other coffee shops.
"What makes Cause Coffee unique is the fact that rather than being an ordinary coffee shop, the company is entirely nonprofit with volunteers working there," Gambill said. "All money spent goes to good causes, which I really like."
Cause Coffee works with Messenger Coffee, a coffee shop located in downtown Kansas City, to supply their beans. Cause has adopted Messenger's goal of staying true to the way the coffee was grown as their own goal.
"We've kind of collaborated with them in the sense of representing the coffee the way it was grown and making sure it is true to the way it was grown and good quality," Cheyenne said.
Cheyenne has been surprised by how many people have volunteered to help at the shop.
"It amazed us how the community has come together and it doesn't matter that they don't get paid. [It's] something about just the heart behind it and the atmosphere here," Cheyenne said. "It's kind of a collaboration project, so there's a lot a baristas in the area that have gotten on board and we have a rotating volunteer list. … We've had just so many people give up their time and we couldn't do it without them."
(Visited 196 times, 1 visits today)