Local animal shelter helps piece together lives of animals in the community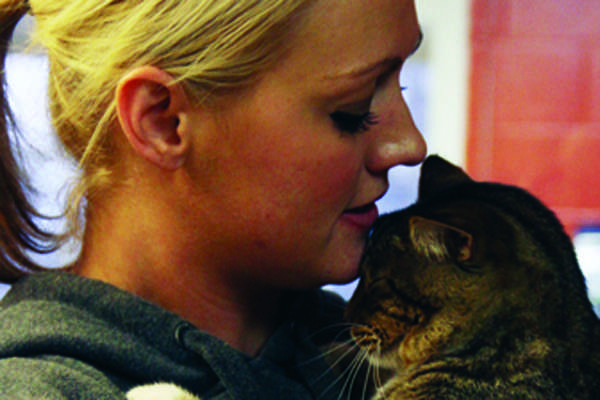 Kathy Nguyen
Sarah Fulton, managing editor
February 2, 2012
Hang on for a minute...we're trying to find some more stories you might like.
A straight quarter-mile-long road leads to a parking lot lined with kennels and a single building. A rectangular room filled with desks and a wall of leashes welcomes visitors, volunteers and staff as they walk through the tight hallways of the Heartland Society for the Prevention of Cruelty to Animals Adoption Center.
Located in Merriam, the Adoption Center, along with the Medical and Lost Pet Centers, house the SPCA. CEO and executive director Courtney Thomas says the overall mission of the SPCA is clear.
"Our strategic goal is to be the driving force behind a no-kill Kansas City. We want there to never be a pet who is adoptable, has a treatable medical or behavioral problem, euthanized in our city," Thomas said.
The SPCA was formed in June 2011 through a merger of No More Homeless Pets KC and Animal Haven with a goal to change the lives of the 18,000 pets who come through their combined facilities yearly. Thomas was part of the merger.
"Both organizations independently were looking at ways that they could have a broader impact on the community," Thomas said. "Overall, it has allowed us to have a stronger connection to our community."
Thomas also said that the merger allowed the programs to save money by combining staffs and services. The SPCA is a 501(c)3 non-profit organization, meaning that, of its $4 million budget, $2.3 million is from donors.
"Everything we do is funded by the benevolence of our community," Thomas said.
The 4,000 animals brought to the society annually are processed through Intake Center. The shelter has contracts with animal controls from 12 different Johnson County municipalities, including Shawnee, meaning that every animal picked up in those municipalities is brought to the SPCA.
"Johnson County does not have another shelter, so we are their only option," Thomas said.
Intake Coordinator Wendy Blair began working for the SPCA seven years ago, after volunteering with the organization for 16 years. According to Blair, the most gratifying part of her job is reuniting pets with their owners.
"A couple had reported their lost Pomeranian with us and they called looking for their dog for about six months," Blair said. "Finally, we received a dog matching their lost dog and called and they were reunited after six months of being apart."
According to Thomas, 68 percent of dogs are returned to their owners and the ones who are not begin a government-required holding period of three to 10 days, after which they officially become property of the shelter. During the holding period, the workers begin to form connections with the pets and even name them.
"We name the animals about one week before they are officially introduced into the shelter," animal care services team member Jason Herold said. "After a while you get to know their personalities and we try to give them a name that fits."
Names like Asparagus and Beatrice Rose follow the pets to the Adoption Center where 3,000 pets are adopted annually.
The center has two cat rooms and several rooms filled with kennels. Volunteers and workers mill about, ready to give recommendations. Adoption coordinator Kara Erickson shared about a cat named Melvin, explaining that he is a heart healer because he loves to cuddle. Finding pets like Melvin their ideal family is a priority of the SPCA according to director of marketing and communications Emily Amos.
"We take pride in really making that match," Amos said. "Our program does a really great job making that connection."
According to Amos, the most difficult part of having pets adopted is the cost, range in price from $90-$250, but the shelter often hosts events that waive the adoption fees.
"Each time you adopt a pet you are essentially saving two lives," Amos said. "The one you adopt and the one that now can occupy its space."
Thomas believes that all programs offered by Heartland are important as a whole to the 250 animals who call it home everyday.
"For our goal of creating a no-kill society, all of the programs we have are essential," Thomas said. "Bottom line, the reality of what we are doing is saving lives."
(Visited 5 times, 1 visits today)