Rising number of freshmen compete as varsity athletes
Athletically talented freshmen class results in great number of underclassmen in varsity sports
Hang on for a minute...we're trying to find some more stories you might like.
Silver Stars
As students watch the Silver Stars performing during halftime at a football game, they may notice eight new faces among the 18 dancers.
According to freshman Lauren Jarvis, the amount of freshmen on the team has come with a major learning curve.
"[Having many freshmen] means we have to work a little harder with getting everybody cleaned for dances together," Jarvis said. "We haven't danced together for very long, so it's very hard for us to transition together."
Senior captain Emma Barge believes the amount of freshmen brings challenges the team has not previously experienced.
"It can be kind of hard at times be cause we have to clean our dances, together," Barge said. "Since they've never been on a dance team before they're not completely used to it, so we have to make sure they're doing the same thing at the same time."
Jarvis believes that the freshmen each bring their own unique style of dance to the team.
"[The freshmen] are very good dancers," Jarvis said. "It makes the dancing more vibrant, bringing different [styles] of dances to this team."
Barge thinks that the new viewpoint that the freshmen bring to the team will help make their dancing better.
"I think it's good; we have a new set of eyes," Barge said. "We have eight new pairs of eyes on the team so they give us a fresh perspective."
Girls Golf
Upperclassmen on the girls golf team have had to take a leadership role, with three out of the six varsity players being freshmen. The trio helped the team to a fourth place finish in their first meet.
According to freshman Caroline Lawson, the upperclassmen have created a family dynamic with the team.
"We have very few upperclassmen, a lot of the new girls coming in are freshmen," Lawson said. "It's kind of more of an older sister thing for them because they help out the younger girls a lot."
  Head coach Chris Wallace hopes the freshmen will help carry the team well into the future.
  "I hope that the girls and work together to establish another strong nucleus that can continue the successful culture we have had as a girl's golf program for the last several years," Wallace said via email.
Lawson believes that the older girls have had to change their practices to adjust to the freshmen.
"I think sometimes it's a little harder for some of the older girls who are used to playing faster and stuff like that," Lawson said. "They have to adjust the way they play, how they talk and how they act because there are younger girls there."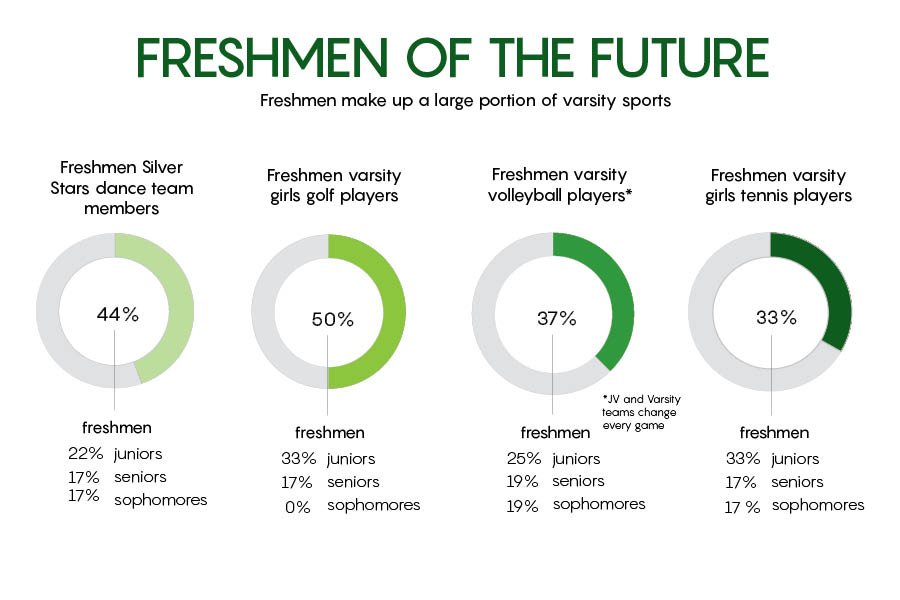 Volleyball
With six out of the total 18 combined varsity/junior varsity roster being freshmen, the team has to overcome their lack of experience. The team is 1-3 so far.
Freshman setter Kinley Drummond doesn't believe the number of freshmen is problematic.
"I don't think it really affects the dynamic at all," Drummond said. "We just go out there and play our best."
Head coach Debbie Fay is grateful for the amount of freshmen that have joined the team.
"I think this freshmen class is very athletic and excited about volleyball," Fay said. "We didn't have as many come out through that sophomore level last year and so it's nice to have them come in."
Fay thinks the freshmen class brings a lot of skill to the team,and the freshmen themselves have had to deal with a lot of change.
"I think their volleyball skill level is very good," Fay said. "They come in with a lot of court sense and court exposure because many of them play club, so they have a pretty high level of knowledge about the game. Playing at the high levels of the EKL, they are not used to, but other than that, they are up for the challenge."
Girls Tennis
Rackets in hand, two freshmen lead the way for the team. The top two players on the tennis team, freshmen Sophie Lecuru and Ellie Schaffer, both won 8-0 in singles in their first tournament.
Head coach Nichole Gurwell believes the addition of Lecuru and Schaffer has elevated the play of the rest of the team.
"It makes everyone better, not just because we're all competitive and we all want to play varsity but because we can see what we can do too if we practice a little harder and we try a little bit harder," Gurwell said.  "It's fun to watch them because they're really talented."
Lecuru thinks that the upperclassmen helped the younger girls make a smooth transition onto the team.
"I don't think [the freshmen] make that much of a difference because all of the older girls… have been really welcoming to all of the freshmen coming in," Lecuru said.
Gurwell believes that playing for their school is an element of added pressure for the freshmen.
"They've played in these big time competitions before and they're both state and nationally ranked," Gurwell said. "But it's different when you have MV on your chest and when you're playing in front of your friends, so they have a lot of pressure, but so far I've seen them do wonderfully."
(Visited 31 times, 1 visits today)