Lacrosse athlete recovers from ACL injury in the spring
Sophomore Payton Thomas talks about her recovery after severe injury to leg
Many students participate in athletics both in and outside of school, and sophomore Payton Thomas is no exception. Thomas plays club lacrosse outside of school for Shawnee Mission. Playing sports comes with the risk of injury, and Thomas knows firsthand what the hardship is like.
In mid-April, Thomas ruptured her anterior cruciate ligament, or ACL, and tore both of her meniscus during a game. She knew something was wrong the moment it happened.
"I couldn't get up when I fell on the ground. My knee rotated the other way, and then I got up," Thomas said. "Right as I put weight on it, I fell back down, and then every time I would walk again it would pop out of place and back in."
For Thomas' parents, the injury was very worrying.
"We were very worried about her and wanted to make sure she was okay," Payton's mom, Amy Thomas, said. "We sought advice from our family friend, who is an orthopedic surgeon, right away."
After going to the doctor and getting the official diagnosis, Thomas went in for surgery Wednesday, May 1. The surgery, which was originally supposed to last two hours, ended up lasting six.
"Going into surgery, doctors said it was worse than they actually thought," Thomas said.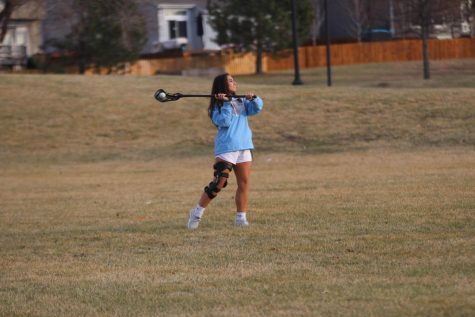 The recovery process for a torn or ruptured ACL injury is long, and if anything in the process goes wrong, athletes may never be able to return to their sport again. Thomas knows firsthand about the 9-12 month process it takes to fully recover.
"I started physical therapy back in the beginning of June, and then it was finding the bend back into my knee and stretching it out to get the bend there," Thomas said.
However, after the last few months, she has worked herself into weightlifting to gain the strength back.
"My muscle definition was gone," Thomas said. "So now, it's just working to build the muscle back up."
Not being able to play lacrosse has been hard for Thomas. Not only is it her favorite sport, but it's something she has been playing for four years. Amy agrees that the injury came at an especially tough time in the season.
"The hardest part for Payton was missing her first high school varsity championship game," Amy said. "The injury happened right before that game and she really wanted to play."
While she remains optimistic for her return, Payton has some worries.
"I'm scared because I don't want to tear it again and go through this process all over again," Payton said.
With only a few months of physical therapy left, Payton's hard work toward recovery is nearly complete. She hopes to return to lacrosse this upcoming season.
(Visited 752 times, 1 visits today)