King and queen of winter sports crowned, dance follows
Winter Homecoming dance follows crowning of king and queen of winter sports
Winter Homecoming festivities came to a close on Friday, Jan. 16 with the coronation of the king and queen of winter sports, followed by the dance.
During halftime at the varsity boys basketball game again Tonganoxie High School, 2014 king and queen of winter sports winners Drew Boatwright and Olivia Phillips crowned this year's winners, seniors Sebastian Uriarte and Mikaela McCabe.
Other king candidates were seniors Cody Deas, Tyler Garrison, Conner Kaifes, Luke Rachwal and Logan Marx.
Other queen candidates were seniors Isabelle Acree, Halie Breninger, Taylor Felshaw, Whitney Hazlett and Lacie Myers.
After being crowned queen, McCabe said she was at a loss for words, adding that she had not been expecting the results.
"I feel really exhilarated. It's the best moment right now and I'm really happy," McCabe said. "I was surprised because there were so many girls who were awesome, and I really didn't know who was going to win."
Uriarte was also excited to be crowned and said he was grateful for the votes of his peers.
"It's a pretty cool feeling knowing that the student body wanted to vote for me," Uriarte said. "I was pretty surprised [when they called my name]. I've always wanted to win Homecoming or prom [king] or something like this, so I was really excited and really happy. It makes me feel awesome knowing that [the students] thought I was the most suited person to be the candidate … I very much appreciate that."
Following the conclusion of the game, students moved to the commons for the Winter Homecoming dance.
This year's Winter Homecoming was a first for senior Hannah Phipps. Phipps said she was glad she decided to attend.
"[The dance] has good, fun music. I'm enjoying [the dancing]," Phipps said. "It's definitely a more friendly environment than Homecoming and Prom."
Freshman Ashley Ebner also enjoyed attending her first Winter Homecoming, noting the difference from middle school dances.
"I like the music a lot. It's kind of like a whole different thing than in middle school. It's just better than middle school [dances] were," Ebner said. "[High school dances] have all the lights and more people … It's pretty fun."
(Visited 32 times, 1 visits today)
About the Contributor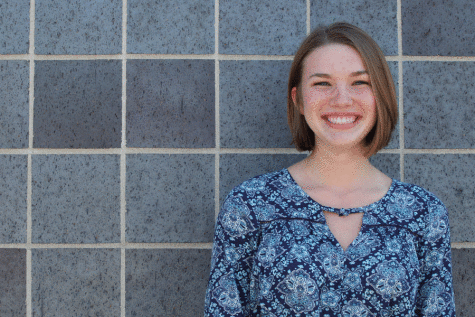 Sarah Myers, JagWire editor-in-chief
This is senior Sarah Myers' third year on staff. She is excited to be a JagWire editor-in-chief and make the paper the best it can be. While not in the journalism room, Myers can most often be found in the theater, performing in a musical or play. She is also involved in NHS, SLT and Student Ambassadors. Myers loves journalism, theater, any class of art teacher Jerry Howard's, history, life science, art, music, people and God. In her free time,...