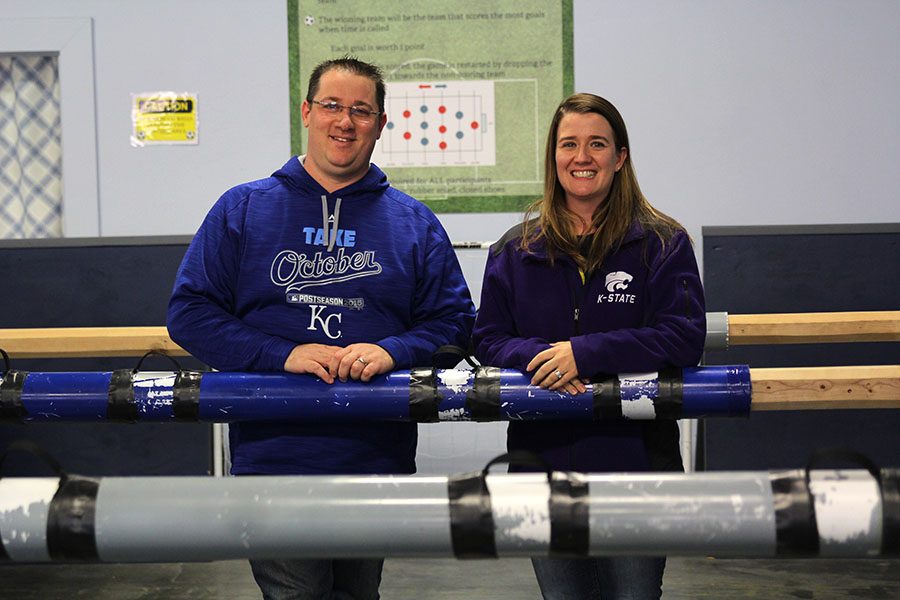 Kick it Foos provides life-size version of foosball to the community
Local establishment allows people of all ages to "be the game"
Scrolling through posts of homemade, life-size foosball tables made of materials such as hay bales on Pinterest, an inspired Brittany McWilliams and husband Lucas McWilliams set out to build an establishment of their own, designated for playing, what is called, "human foosball."
To play, participants strap their hands onto the wooden beams acting as rods and kick the ball into the opposite soccer goal as the plastic players on a table would do.
After the couple received some help from a longtime friend to construct the wooden game — as well as other large-scaled versions of classics such as dominoes, checkers, pool and Jenga — "Kick it Foos" officially opened in the summer of 2016 at 8166 Monticello Terrace.
Since the opening, Kick it Foos has hosted various group events, bringing in participants of all ages.
"We've done everything from birthday parties, church youth groups, bachelor and bachelorette parties, wedding rehearsal parties and family reunions," Brittany said. "We've had everyone from kids barely able to look over the bar to Grandma Ginny, who was 83 [years old]."
Brittany decided to put her "wacky" idea into action when she felt youth, such as her growing 11-year-old son, needed a new, fun activity to do.
"There's teenagers getting in trouble because they're out and they don't have anything to do, and I liked the idea of [creating] something to do for older kids," Brittany said. "Not Monkey Business — not the things like that where everybody's always done it. But instead, somewhere for older kids to go."
Lucas believes they have accomplished their goal of creating such a place.
"I like seeing people come in here and doing things they've never done before and having a blast doing it," Lucas said. "They're leaving here sweaty, with bruised legs up and down, saying 'this was awesome, I totally want to do this again.' Even though they're half-limping out the door, they can't wait to come back and do it again."
Senior Brody Flaming and the 10 other senior members of the football team, along with their mothers, utilized Kick it Foos a few weeks prior to the past season as a team bonding experience. In agreement with Lucas, Flaming says that he left the outing pleasantly surprised.
"It's different because you would never expect to be a human foosball and have a lot of fun, but I did have a lot of fun," Flaming said. "I worked up a sweat, and you wouldn't believe you would do that, too."
Because the concept is so unique, the McWilliams have found it more difficult than expected to bring people to try something new.
"It's just such a different idea," Brittany said. "It's just about getting enough people in to pay the bills. Everybody that comes in always says, 'Oh, we didn't even know you were here or that this existed.' … It's hard."
Additionally, according to Lucas, the drive for many to come to Shawnee likely acts as a barrier when bringing people in.
"You'll have people whose kid plays baseball at 3&2 from Lee's Summit, but for a birthday party here from Lee's Summit, it's too far," Lucas said. "It's all about convincing them that it's fun enough to come over here for and just getting the word out."
Flaming, however, was originally more concerned with the cost than the location. Depending on the amount of time one wishes to spend playing foosball and whether or not they're looking for access to the other homemade games, prices range from $96 to $300. Because of their group size though, Flaming believes the cost didn't end up being prohibitive and encourages those looking to visit Kick it Foos to do so and simply bring a larger group.
"It's a little bit on the high-priced side, but if you get more people to go it'd be really nice and less expensive," Flaming said. "I'd definitely recommend it."
Despite the challenges the business faced in its upbringing, Brittany concluded that Kick it Foos provides an opportunity for the Shawnee area to connect with the people in their lives.
"I had somebody contact me, that does a mom and son get-together, but they go to the movies and just sit next to each other, which they can do at home," Brittany said. "So, they were talking about coming here so they're actually interacting with each other. I think we miss that as a society nowadays, just in general."
(Visited 68 times, 1 visits today)