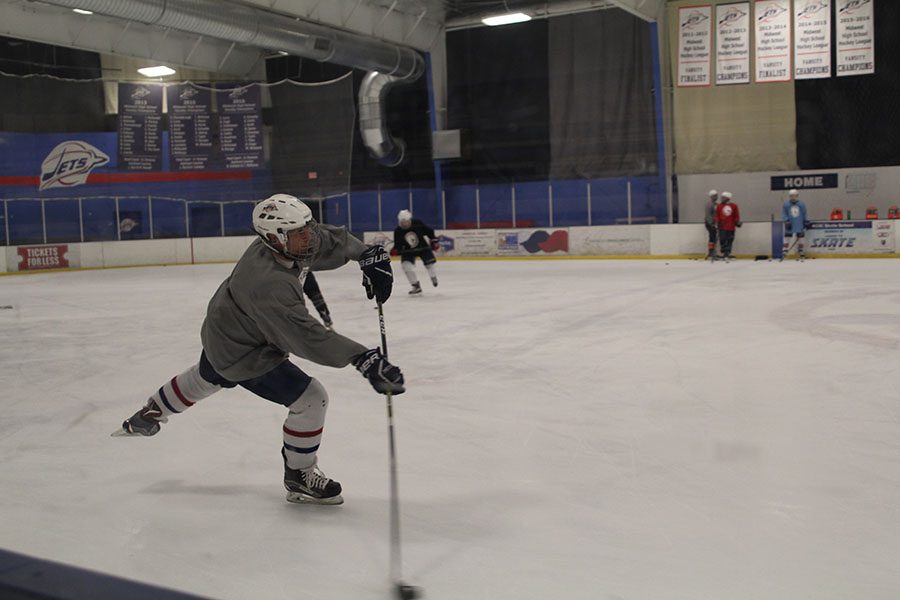 By Marah Shulda
KC Ice Center offers skating opportunities for beginners and advanced skaters alike
KCIC stands as one of three ice rinks in the metro to offer indoor skating and hockey
As the smell of chicken strips fills the main entrance, kids unlace their skates or take off sweaty hockey gear from a session on the ice. The Canadian national anthem, "O Canada," booms out of the table hockey game in the corner while employees fill out paperwork and organize name tags. Two rinks, one indoor and one outdoor, keep the ice at a crisp 14 degrees. The building has gone through multiple ownerships and names, but now proudly displays Kansas City Ice Center on its exterior.
Open since the early '90s, KCIC, located at 19900 Johnson Dr., offers skating and hockey lessons for beginners to advanced skaters, as well as public skating in the winter. Only two other ice centers in the metro — one in Kansas City and one in Independence — have indoor hockey rinks. Skate school director Kay Olive said the ice center gives young people a unique opportunity to get involved in the community.
"We provide a venue for kids to come do something, especially in the winter, on a Friday or Saturday night," Olive said. "We have public session from 8 to 10 p.m., and we definitely have a place for the community to learn how to ice skate."
Additionally, assistant general manager Cristi Lewis values the varying opportunities KCIC provides people to learn about skating and hockey.
"I think we're kind of bringing not only a recreational activity to people, but we're also offering a competitive sport for people too," Lewis said. "We have travel hockey teams as well as recreational teams [and] figure skating. Our lessons can be just for those who want to learn how to skate for lifetime activity [or] competitive skaters."
KCIC is home to a high school varsity hockey team, the Kansas City Jets, of which senior Justin Grega has been a member of for four years.
"I enjoy it," Grega said. "[KCIC] is very convenient, very close. I'm probably the closest on my team to the rink [because] I only live two minutes away."
Though the close proximity may be convenient for Grega, Lewis said the ice center's role in the community is often downplayed due to their location.
"There's a lot of people who don't know we're here," Lewis said. "I think it's kind of just where we're at."
Still, Olive explained the enormity of the programs housed at KCIC. She described the hockey program as "huge," with 800 kids in it, as well as the 250 kids in the skate school learning to skate.
For both Olive and Lewis, working at a skating rink can be more complex than people expect. From driving the zamboni to getting coffee, employees at KCIC have a lot of different tasks to do.
"When you work at this skating rink at least, you kind of have all sorts of 'hats,'" Olive said. "I have the skate school hat, the manager hat, the concession worker hat, the sharpen skates hat [and] the skate rental hat. On a typical day, I don't always wear [all] the hats, but I wear a lot of them."
And while working at the KCIC can be stressful, Lewis said she enjoys every part of it.
"I love skating; I've been a skater almost my whole life," Lewis said. "I like just being around that and I get to go out and teach every so often. It's something different every day, just getting to see people do what I enjoy doing and the sport itself growing here in Kansas City. It's awesome."
(Visited 98 times, 1 visits today)