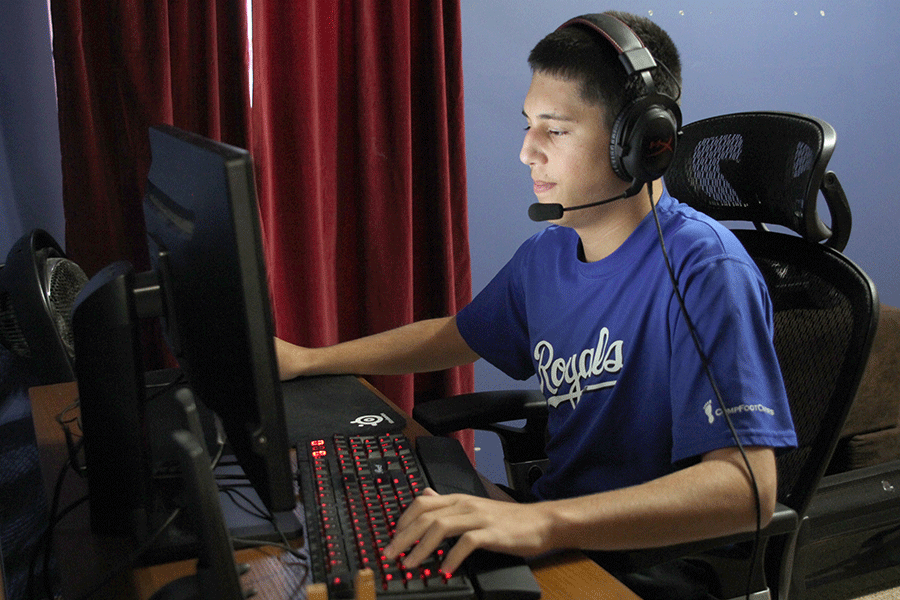 Juniors Josh Cafer and Jazz Loffredo spend free time playing computer games
After school and on the weekends, Cafer and Loffredo play "Counter-Strike" on their personal computers
Junior Jazz Loffredo leans toward his computer screen, his fingers gliding effortlessly across his keyboard. Rounding a corner, an enemy takes him by surprise and Loffredo shoots him, without thinking. Sitting as his own computer, junior Josh Cafer moves his thumb over the ball on the side of his mouse to maneuver his character around the same map Loffredo is playing on.
Along with their group of friends — senior Cole Griggs and juniors Camden Davis, Alex Sambevski, and Spencer Taylor — both Cafer and Loffredo enjoy spending their time after school playing video games, specifically the first-person shooter "Counter-Strike."
Loffredo said he spends 10-15 hours a week playing video games, while Cafer thinks he plays five hours a day on weekdays and eight hours a day on the weekends.
Cafer first started playing computer games when he was five years old.
"I'd play on my dad's PC with him," Cafer said. "[We'd play games] like 'Myst,' 'Age of the Empires II,' 'Total Annihilation' and things like that and real-time strategy games."
According to Loffredo, his relationships with his family and friends have not been affected by  playing computer games.
"My mom doesn't care as long as I keep my grades up," Loffredo said. "[My friends and I] still do things outside of school. We're having a rec basketball team and I have two friend groups that I go between."
"
More than anything, it lets me forget about everything that's going on."
— junior Jazz Loffredo
Loffredo feels playing computer games have improved his ability to handle himself in high-intensity situations, such as tournaments with his friends.
"You are pitted against another player. If you win, then you win the whole game. If you lose, you lose the whole game and you lose the money," Loffredo said. "It's like everyone's counting on you to win the game for your whole team."
As for Cafer, playing computer games is just a fun way to pass time.
"I used to drive a four wheeler and dirt bike [in my backyard] and I just kind of stopped," Cafer said. "I used to do it in sixth, seventh, eighth, freshman and sophomore year, but I just do video games [now] because my friends do it."
Playing video games with his friends resembles a distraction from everyday life to Loffredo.
"It's like an escape," Loffredo said. "Instead of being so caught up in the business in school, you get to relax a little bit and you can take your mind off things. More than anything, it lets me forget about what's going on."
(Visited 61 times, 1 visits today)