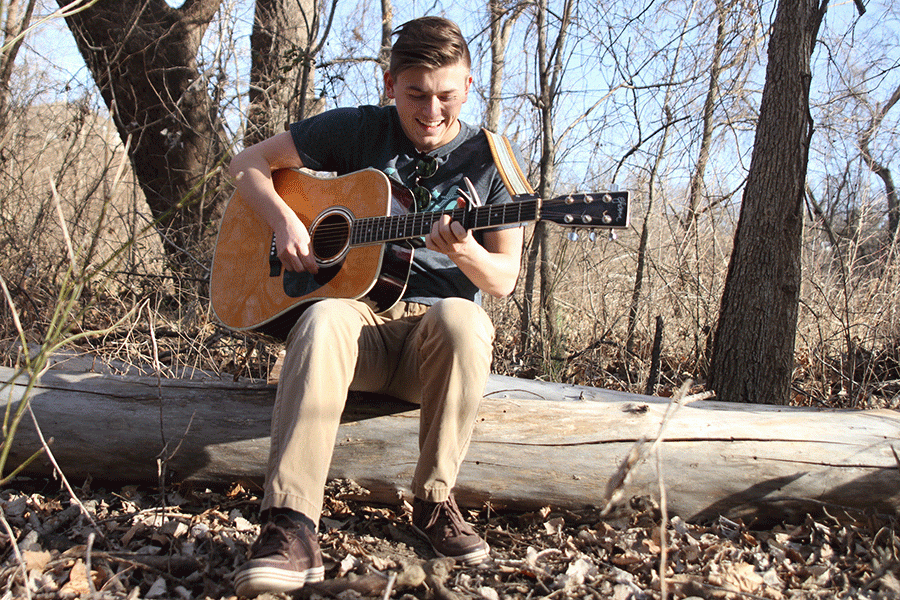 Junior uses music as creative outlet
Junior Brady Herron shapes his life around songwriting and his band, Counterculture
March 21, 2016
As the lights dim and the crowd bursts into cheers and applause at the annual Battle of the Bands at the Nelson-Atkins Museum, junior Brady Herron sings his last note to the audience with the rest of his band, Counterculture, behind him.
Herron was first introduced to music when he received a guitar as a gift at the age of six. Initially, however, Herron said he "felt obligated to play it [and] didn't like it that much."
Nevertheless, Herron continued to play and over time began to enjoy it more. He eventually evolving into performing guitar by himself in front of his peers, performing an original song at his fifth grade talent show.
Three months ago, Herron, along with junior Jakob Errigo and junior David Kuk, formed the alternative band named Counterculture, debuting at the annual Battle of the Bands at the Nelson-Atkins Museum on Friday, Feb. 19.
Herron thinks Counterculture is different than other local bands because of their unique style and lyrics.
"I think it says it in the name," Herron said. "We write songs towards being kind of counter-culture. We don't want to try to come off as a bunch of hippies that are against every single thing that culture has to offer, but it's easy to write about stupid things that everyone does."
Junior band member David Kuk said Herron has grown since being a part of Counterculture and has greatly influenced the band as a whole.
"[Herron has] impacted our band through creating a much more unique sound," Kuk said. "[He] is really good at writing catchy lyrics and verses and stuff. Brady makes the band counter-culture."
In addition to performing, Herron has been writing songs since elementary school.
"I've definitely gotten more in tune with myself through [music]," Herron said. "Instead of thinking about my thoughts, I'm now putting it on paper and performing it for people. There's a lot of self-discovery when you're writing music."
According to Kuk, Herron is perceived as the main songwriter for Counterculture.
"[The process is] very collaborative but Brady writes all the lyrics so he kind of drives most of the song and we all chime in and structure the rest," Cook said.
Herron said it's "unpredictable who [he] would be without music" due to the large impact it has made on him.
Although he is at the beginning of his career in music, Herron wants to continue to pursue his passion.
"[Music has] been a part of my life for so long and I really want to be a rockstar, and I want that not for the fame part of it, but just so I can do music for a living," Herron said.
Ultimately, the presence of music in Herron's life has shaped him into the person he is today.
"[Music] gives me a lot of opportunities to express myself and it brings a lot of people together in a lot of ways," Herron said. "It just makes me really happy, and it doesn't really matter what specific part of it makes me happy because it all does."
(Visited 1 times, 1 visits today)