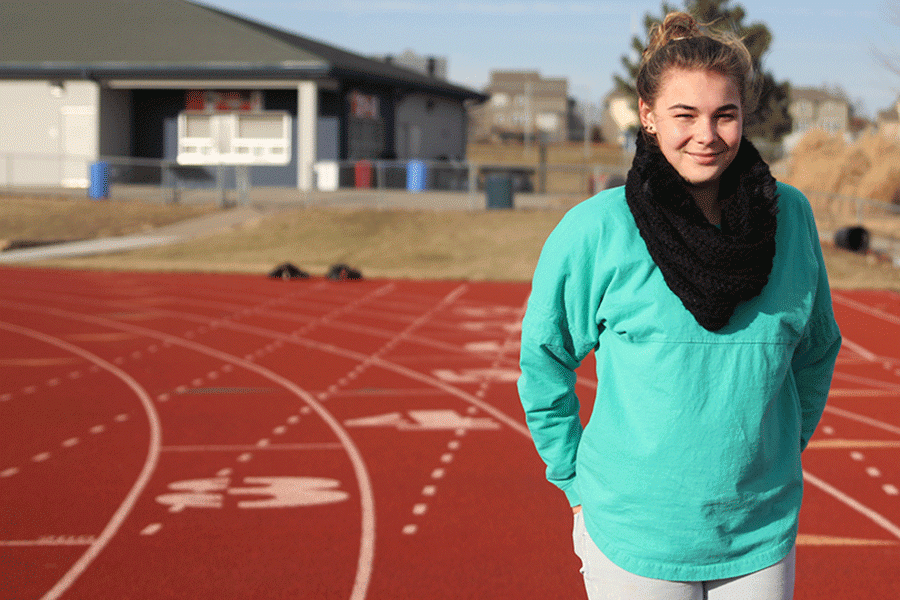 Junior Trinity Wilson is greatly impacted by her time spent on the track
By Annie Myers
Junior Trinity Wilson is greatly impacted by her time spent on the track
In her favorite place at Mill Valley, Wilson finds stress relief, friendship and self-discovery
At one point or another, the track is a place nearly all students at Mill Valley spend time on for various school activities, but for junior Trinity Wilson the track is more than just another place on campus.
Wilson became a member of the track team in middle school and has loved the sport ever since. During the season, she spends up to three hours on the day on the track when possible.
After a long day at school, Wilson values the time she spends on the track as it relieves her of stress.
"For me, it's kind of like an escape from all the stresses of school," Wilson said. "It's something that I've learned to love. It's almost like being locked in a room and finally finding that escape."
Although she's mainly a sprinter, Wilson participates in numerous track and field events including jumping and occasionally throwing.
"If I listed all of [my events], it'd be a rather long list for someone who's only supposed to do four," Wilson said. "The 100 meter dash, 200 meter dash, 100 meter hurdles and then long jump are my four main [events]. Those are the [events]  I'm guaranteed to do, but I focus more on my sprints at this point."
For Wilson, the relationships she has been able to build on the track are what make it so significant to her.
"It's a place where so many people can gather and we're almost like family. I have found some of my best friends at the track," Wilson said. "I had never met [junior Camryn Coleman] before; she was completely new to the school last year and we just hit it off when it came to track."
Being able to develop a best friendship with Wilson makes the track important to Coleman as well.
"I learned [Trinity] was a sprinter and we've been friends ever since," Coleman said. "I can depend on her. I know when she says she's going to do something, she's going to try her hardest to do it."
The two have grown close, constantly challenging each other to improve in the sport, according to Coleman.
"We joke around a lot, but we push each other," Coleman said. "She pushes me just as hard as I push her."
As well as challenging Coleman, the track has allowed Wilson to personally challenge herself, making her time there crucial to her everyday life. She has learned many things about herself on the track, the most important being reaching beyond her self-limits.
"I have learned [that]  I can push myself past a limit that I thought I had," Wilson said. "I can do 'this,' but I want to do 'that,' [so]  I just have to step out of my comfort zone."
(Visited 9 times, 1 visits today)