Junior team manager Joe Cosmillo acts as third coach for the varsity volleyball team
Volleyball team benefits from encouragement and assistance from junior team manager Joe Cosmillo
Katya Gillig, Mill Valley News editor-in-chief
October 22, 2017
As fans watch the volleyball team playing, they may notice a third person coaching alongside head coach Debbie Fay and assistant coach Ibraheem Suberu. That face is junior team manager Joe Cosmillo, who often helps the players both during practice and games.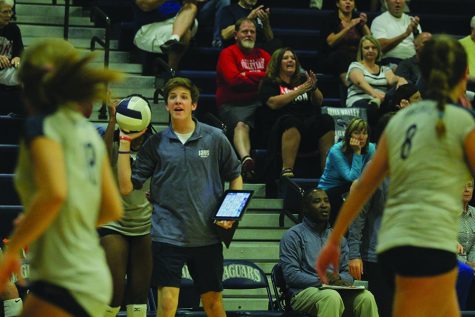 Joe has been involved in volleyball for most of his life, whether it is watching his sisters play or helping volleyball teams by managing.
Joining the team as manager his freshman year was a way to spend more time with his family and pursue his passion for the sport. Joe's sisters, juniors Molly and Alyssa, have both played for the volleyball team and Molly currently plays varsity.
"I've just always been interested in volleyball," Joe said. "Obviously my sisters are on the team, too, which was a factor; just wanting to hang out with them."
According to Molly, Joe is encouraging for the team during games.
"He's there to toss balls, or if somebody is sick he'll fill in," Molly said. "He's just a big motivator and helps the girls get fired up when games are tight. You'll see him stand up on the bench and cheer really loud which helps."
In addition to helping with the players, Molly believes Joe helps the team by filming the games, taking statistics and strategizing during timeouts.
"Sometimes when the games are tight he tells me what's open on the other side to score," Molly said. "He's always there. He's a big support system for me, especially when I'm struggling."
Joe would consider being involved with volleyball in the future.
"If I have free time when I'm older I might help coach a volleyball team," Joe said. "Whether it's high school or a club team."
(Visited 220 times, 1 visits today)