Junior Nic Botkin wins sixth annual Mr. Mill Valley contest
StuCo hosted Mr. Mill Valley Friday, April 9, raising $503 for Relay for Life
With fourth-quarter came the sixth annual Mr. Mill Valley contest, hosted by StuCo. Junior Nic Botkin, who was Mr. Cross Country, took home first place Friday, April 9. 
Botkin was ecstatic about the outcome of the contest. 
"It feels so amazing [to be Mr. Mill Valley] and such a big accomplishment," Botkin said. "I'll remember it for the rest of my life." 
Mr. Mill Valley features four junior boys and four senior boys, all showcasing their talents in order to win the hearts of the audience and judges. 
Student Body Secretary Elise Canning says the contest features different rounds including talent, poetry, fancy dress and Q&A. 
"My favorite part about Mr. Mill Valley is the talent portion," Canning said. "I think it gives the boys a good time to showcase their humor and personality. It's also always really funny." 
This year, all proceeds from the contest will go to Relay for Life, which will be hosted Friday, April 16 on the football field. 
According to Botkin, Mr. Mill Valley is a fun way to raise money for organizations like Relay for Life. 
"Proceeds are going to Relay for Life Jaguar Nation," Botkin said. "I can't wait. I'm actually going to Relay for Life, so it's going to be really fun." 
Canning says StuCo is grateful for this opportunity.
"We raised a little over $500 which is really exciting," Canning said. "Since StuCo has not really had the opportunity to do a lot this year, we really appreciate getting to do Mr. Mill Valley." 
Botkin stunned the crowd and judges with his Just Dance choreography and ukulele. He wanted to challenge himself. 
"I was very nervous when I got called and asked to do it. I almost didn't do it," Botkin said. "I knew that I wanted to break out of my comfort zone and do it, and I am very glad I did." 
Botkin says he enjoyed watching the other contestants perform. 
"My favorite part of the contest was watching [junior and Mr. StuCo] Declan [Taylor] dance. It was so funny," Botkin said. "He performed 'Vote for Pedro' from Napoleon Dynamite. He looked so good."
(Visited 319 times, 1 visits today)
About the Writer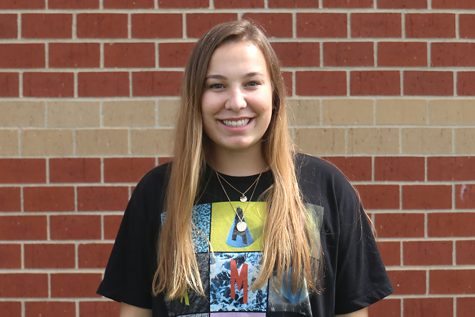 Allison Seck, JAG copy editor
This is junior Allison Seck's second year on the JAG yearbook staff. This year she is taking on the position of copy and assistant editor. Allison is also involved in StuCo, swim, NHS and is a member of the Eudora Tech Health Careers program. Outside of school, she can be found listening to music, hanging out with her friends and spending way too much time obsessing with her little sister over One Direction's inevitable reunion.