Junior John Fraka dedicates his life to music
Playing for both his church and his band Reviver, junior John Fraka has built his life around music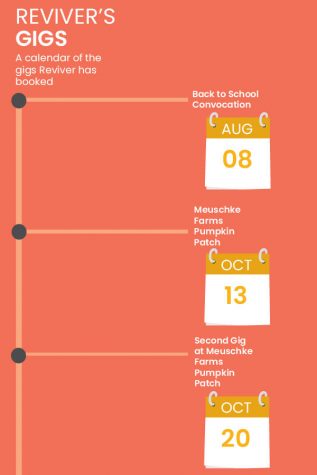 As congregation members slowly filed into Grace United Methodist Church for Sunday morning services, the church's musicians, gathered in a corner of the stage, rehearsed. A vocalist went through her warmup drills. A pastor prepared his sermon. In the middle of it all, junior John Fraka softly strummed E minor. 
Fraka has dedicated the majority of his time to music. He's the first chair alto saxophone in Mill Valley's jazz band and symphonic band, earned a spot as the district band's lone jazz guitarist last year and was recognized as the Kansas All-State jazz guitarist last year. He also works a $30-an-hour weekly gig as his church's guitar player during worship. 
Fraka estimates that, on top of an already exceptionally busy schedule, he practices guitar for at least an hour every day in addition to his band classes and rehearsals. 
Fraka wasn't born with the affinity and appreciation for music he has today; however, when an opportunity arose for him to begin playing guitar, he seized it. 
"I started [playing guitar] in fifth grade, but then I dropped it because I thought this is kind of lame,'" Fraka said. "Then in seventh grade, I was going on a mission trip. They needed a guitar player for the youth group. I told them, 'I did that in fifth grade. I'm pretty sure I could pick this up pretty quickly.'" 
During that mission trip, though, Fraka was hooked. He loved the experience of playing guitar, and wanted to make it a regular part of his life. 
"I got a cheap acoustic guitar and I started playing that," Fraka said. "I just kept going, and I've kept going ever since."
To fulfill his desire to play even more music, Fraka also joined a band, Reviver. The band, which also features physics teacher Chad Brown as a guitarist and vocalist has been an outlet for Fraka to show of his talent.
While Fraka has already gotten a couple gigs with the band, Brown hopes to continue expanding their opportunities.
"We played a back to school party for some of the teachers here," Brown said. "We're playing at a pumpkin patch … and we have a couple other gigs, possibly in the near future, but we are just … getting [started]."
Brown credits a lot of their success to efficient networking.
"It's a lot of marketing," Brown said. "We have business cards, we have a Facebook page, we have an Instagram account. Our drummer takes care of a lot of that … and has the knowledge that has been putting us out there."
For Brown, the end goal is for the band Fraka's in to continue playing more often.
"I'd like to be gigging at least once a month," Brown said. "We'd like to record eventually, I've been writing some original material."
While Fraka enjoys the success that music has brought him, he continues to play simply because he likes it.
"I just play music because it's fun," Fraka said. "I enjoy it and, apparently, people say I'm good at it."
(Visited 203 times, 1 visits today)