Junior Brittany Ouellette finds life revolving around her father's career
Junior Brittany Ouellette's father's job has impact on family
Junior Brittany Ouellette and her family, composed of her parents and her two younger sisters, have moved consistently over the years, due to her father Captain George Ouellette's job as a military police officer.
George has about 117 people under his command. The company of people led by George work the maximum security facility for the United States Disciplinary Barracks. George describes his everyday duties as "everything you'd see a normal corrections officer do inside of a normal prison, just in military clothing," in which the average work day is 12 hours.
George began his journey in the United States military as a sergeant in the army. He then met Brittany's mother, Elizabeth Ouellette, and went back to college to get his degree in order to become an officer.
"[My job affects us] positively and negatively. Positively, it's taken us all over the world, and it's given me opportunities that I never would've been able to [have] anywhere else," George said. "However, it's also one of those things that steals a lot of your time, because it is the army, and you are designed to fight and protect the nation and its interests. With that, sometimes we have to deploy. Nobody ever goes to Abu Dhabi … or anything fun like that. The fact is, we go to places which nobody wants us and try to help everyone."
Brittany has mixed emotions about her father's career.
"I feel [my dad's job] takes a lot of time. He's not home all the time, but he gets things done and we learn things," Brittany said. "We get to see new places, meet new people, so it's a good job – but it takes away from things, which stinks sometimes."
Washington, Maine, Kentucky, Tennessee, Missouri, Kansas; these states name only some of the places where the family has lived. When the family lived in Kentucky, George's 12-month deployment in Afghanistan and 6-month deployment in Missouri taught Brittany responsibility.
"[His job] started out [when I was young], it's not like it's recent – it's all the time. Deployment is the worst. [I have to] take the big-sister aspect at that point; I have to step up."
"
I've definitely walked through the woods a couple of times"
— junior Brittany Ouellette
During the family's time in Kentucky, George estimated his absence from home to be about four out of the six years they lived there due to deployment. Now, with a new military police officer job, not having to deploy and living in Kansas, Brittany guesses her father's vacancy to be about 12 days out of the year.
"In Kentucky it was a lot harder because it was [my] Freshman year and middle school, and I couldn't do anything. Now that I can drive and work, it makes a lot of things easier."
Due to living in so many states, Brittany views some positive aspects of her father's job as in-state tuition to various colleges, as well as greater advantages for her future.
"I have a lot of opportunities open for me. I've met a lot of people that can open doors for me that normal people can't. Being so high up in command, [my dad] knows higher-up people that can write letters of recommendation for me for schools," Brittany said. "Just the experiences [have been positive], [I've learned] responsibility and survival – I mean, I've definitely walked through the woods a couple of times. I can live on my own and I think I'll be pretty set."
Despite the ups and downs his career has caused his family, George views many life lessons his job has taught his daughters.
"You have to be strong; not everyone you love will always be there, so you have to understand how to take care of yourself," George said. "One moment someone could be here, and then they could be gone. Life is precious. Hard work will get you everything you need. Nothing is free, nothing is easy. Sacrifices have to be made, and this job has taught every single one of [my children] to lean on each other, and family is the most important thing."
(Visited 22 times, 1 visits today)
About the Contributor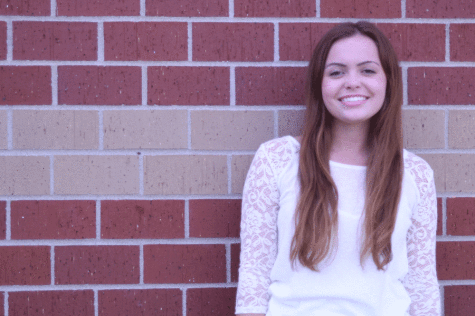 Sydney Carson, JAG editor-in-chief
Senior Sydney Carson joined the JAG Yearbook staff her sophomore year and is now a co-editor-in-chief of the JAG yearbook. She enjoys reading, her dogs, monograms, frockets and the University of Arkansas razorbacks. WOOO PIG SOOIE!