Junior breaks Kansas girls' state pole vault record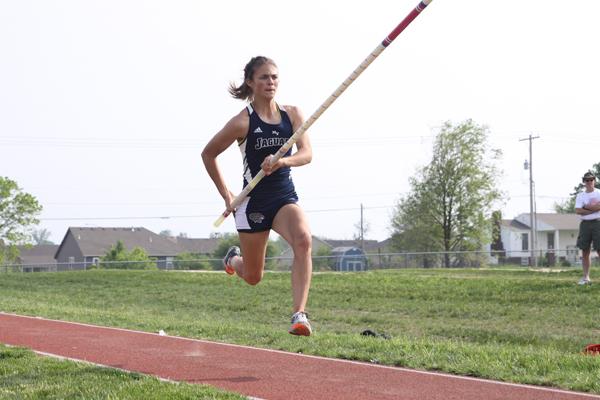 Junior Emily Brigham broke the girls' Kansas state track record for pole vault on Thursday, April 5 at the Jaguar Invitational.
Brigham feels that clearing the height of 13 feet is a symbol of her hard work.
"I practice year round," Brigham said. "I put all my time and effort into pole vaulting, it feels good to get something I've worked really hard for."
Brigham first broke the school record for pole vault on Friday, March 23 at the Blue Valley North Dual with a height of 12 feet, then broke that record at the next meet on Friday, March 30 at the Ottawa Relays with a height of 12-6.
Brigham began pole vaulting her freshman year and loved it from the beginning.
"I was a gymnast for so long," Brigham said. "I guess that carried into the fact that I just like being in the air. I like to fly."
Brigham hopes to break her personal record of 13 feet over the duration of this season.
"I want to train harder and jump higher," Brigham said. "I just want to be the best athlete I can."
(Visited 24 times, 1 visits today)
About the Writer
Alana Flinn, JagWire editor-in-chief
Alana Flinn is a third year staffer who is looking forward to a year full of new experiences. As editor-in-chief, Flinn hopes to finally win a Pacemaker for Mill Valley News while maintaining the quality of JagWire. She will also continue to report on her favorite sport, football. Flinn's favorite quote is: "Every person you meet, every single one, is looking for their story. There are no exceptions. You become part of it by how you treat them." -Anonymous