Junior Anna Clayborn works out for self-improvement
Eventually, Clayborn hopes to compete in a powerlifting competition
December 9, 2015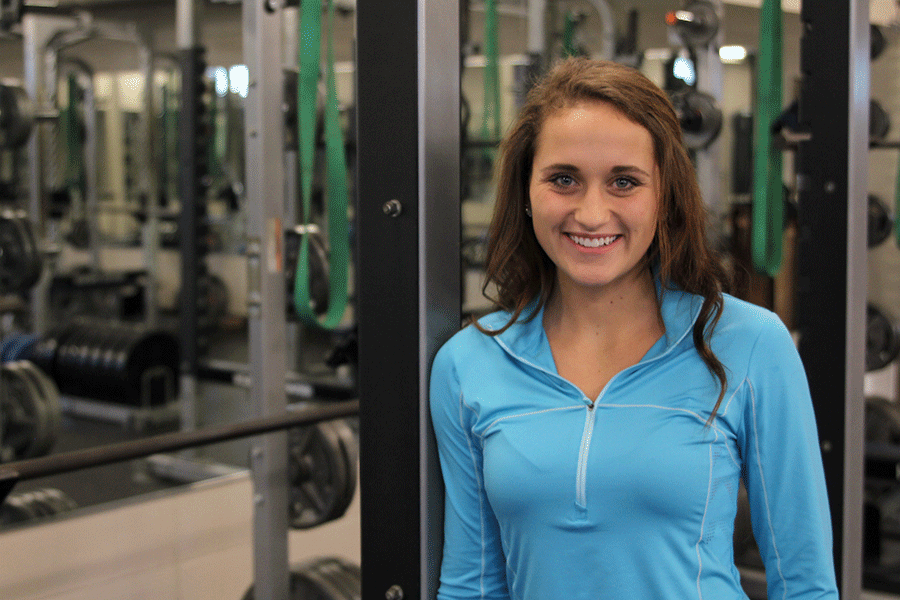 Whether it is after cross country, track or work, junior Anna Clayborn can be found in the weight room of Lifetime Fitness. Since she was a freshman, Anna has been lifting weights, with hopes of participating in a competition.
"I wanted to lose weight at first, and then I started lifting and getting muscle," Anna said. "Building my body has been really cool. You just see the changes and you just want to keep changing [and] looking better."
Family has also been a part of Anna's motivation.
"I decided I … wanted to look like my brother," Anna said. "He kind of inspired me to lift more because he was into lifting."
Her brother, senior Spencer Clayborn, began lifting three years ago due to football. He and Anna occasionally work out together, where he is always there to help her.
"Whenever she has a question, I let her know [the] right technique and everything," Spencer said.
Anna's friend, junior Madisen McKay, has known her since they were in middle school. Although McKay doesn't have a gym membership anymore, she used to work out with Anna and has seen a lot of changes in her body.
"She's a lot more muscular and really fit now," McKay said.
Spencer has seen an improvement in his sister's lifting skills.
"She's gotten a lot better, a lot stronger," Clayborn said.
"
"Working out is a really big stress reliever. I love it … Just the feeling when you lift is amazing."
— junior Anna Clayborn
At the gym, Anna will work out different sets of muscles each day.
"I work on different things every day. Sometimes I will do back and shoulder together, then I will do biceps and triceps," Anna said. "I'm set up in different days."
Anna has also helped McKay improve her own workouts.
"She showed me different ways to work out. I was [newer] to it, so she was like, try this or try that," McKay said. "She introduced me to protein shakes and stuff to have after workouts and better ways to eat."
Working out helps Anna in many ways, including relaxing her after stressful days.
"Working out is a really big stress reliever. I love it," Anna said. "When I'm mad, I just go to the gym and I lift. Just the feeling when you lift is amazing."
Anna has reasons to be stressed, as she runs year-long, while also maintaining a job at Lifetime and keeping up with her schoolwork. Time management allows for Anna to balance it all.
"I try to get all my homework done in school. In math class … I try to finish my homework before the end of class," Anna said. "I do it before I go to the gym, or after work, or after the gym."
Anna has, however, been too busy to compete in body competitions, a type of powerlifting competition that requires significant preparation. Anna's goal is to make it to one eventually.
"You sign up for one about a while before and …  train for it. About a week before, you start cutting [weight] … so you have to train for a very long time before doing it," Anna said. "I want to … hopefully be able to do a body competition."
For those who want to get into serious weightlifting, it is important to be motivated, according to Anna.
"[You have] to be self-determined and … push yourself," Anna said. "Don't let other people bring you down because it is all about what you want."
Anna sees herself continuing to workout for the rest of her life.
"I plan to stay fit my whole life," Anna said. "I'll be that 80 year old grandma who's just buff."
(Visited 37 times, 1 visits today)