Journalism takes home 25 awards from regional contest on Monday, Feb. 25
A total of 18 students qualified for the state contest on Saturday, May 4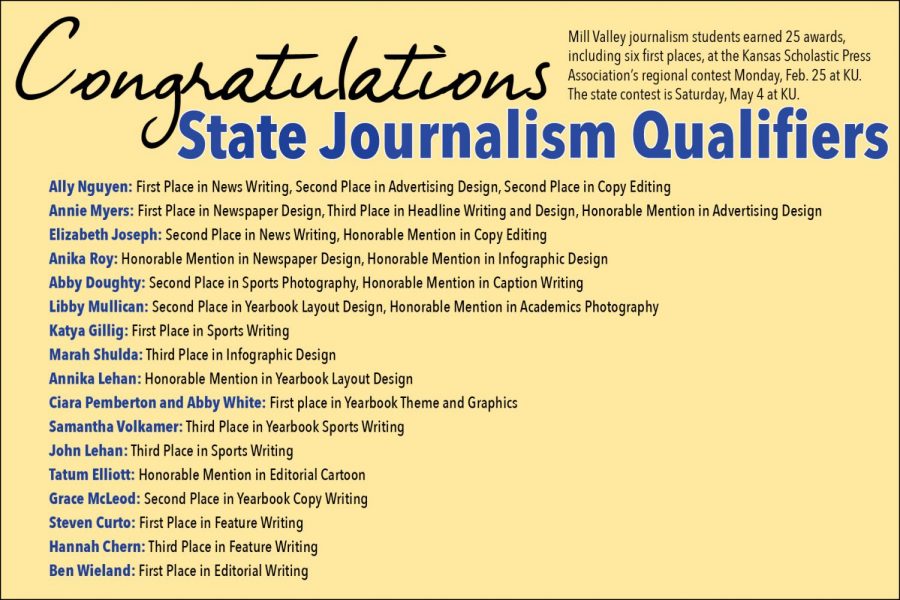 The journalism department received 25 awards at the Kansas Scholastic Press Association regional competition on Monday, Feb. 25. Of those awards, six were first place rankings. The 18 students continuing to state will compete again on Saturday, May 4, at KU.
First place participants comprised of senior Ally Nguyen for News Writing, senior Annie Myers for Newspaper Design, senior Katya Gillig for Sports Writing, sophomore Steven Curto for Feature Writing, sophomore Ben Wieland for Editorial Writing and senior Ciara Pemberton and junior Abby White for Yearbook Theme and Graphics.
Earning first place in Newspaper Design, third place in headline writing and design and an honorable mention in Advertising Design, Myers liked how regionals let her try out new styles and ideas.
"[Regionals] just lets me bring out a different side of creativity that I don't normally get to work with on the newspaper because of these different prompts and different style of design," Myers said. "It's fun to be able to do something different and fresh."
The advice and experience of long-standing staff members helped Curto, who received first in Feature Writing, to become a better journalist leading up to the competition.
"I think that the upperclassmen help the younger staff members focus, and know what's going on beforehand so that we're not nervous. They're really experienced, and have helped us throughout the year to get better and improve," Curto said. "I think having the upperclassmen here to teach us everything they know and get through regionals, since we're going to have to do it again next year, really helps us to improve our mindset."
Taking third place in Feature Writing, sophomore Hannah Chern enjoyed experiencing the competitive nature of a regional journalism competition.
"It's really nice being able to see other schools and compete with them. You get the feeling of being in a different environment that's more competitive," Chern said. "You don't really think of newspaper as a competitive thing, so being able to compete here … was pretty cool."
Reflecting on her first journalism competition, sophomore Grace McLeod, who took second in Yearbook Copy Writing, was comfortable competing because her contest was something she knew well.
"It was a little intimidating walking in because there was a ton of people. After ten minutes, I got the hang of things, and it was basically what I do all day every day for journalism," McLeod said. "[I learned not to] get stressed over small stuff because it'll all be fine."
According to Curto, regionals was a great way for the journalism staffs to come together and demonstrate what they are capable of.
"I think it's fun to be around people that you are friends with, and as a newspaper, we are like a family, we're closer than friends," Curto said."Being able to compete and show how good we are at doing what we do, and having the opportunity to show other people that is fun."
(Visited 31 times, 1 visits today)