Journalism students host first ever middle school workshop
Students from both district high schools teach middle schoolers tips and tricks of journalism
The journalism department put on their first middle school workshop at De Soto High School on Monday Sept. 12.
Journalism students and teachers taught middle school publications students tips for taking pictures, video and interviewing. The workshop contained a photography portion where students took photos using the cameras, a audio and video presentation, and practicing for interviews.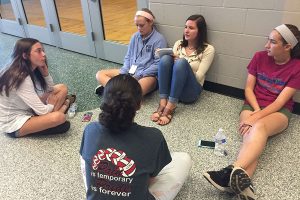 "I feel that the journalism workshop went very well. The kids, as well as myself, learned a lot about photography and interviewing," Monticello Trails computers teacher Angela Crews said via email. "It was so good for the kids to hear about experiences in the high school journalism program and that [high school journalists] also sometimes struggle with the camera settings and get nervous to talk to other students [and] staff."
Junior Nora Lucas's favorite part of the day was telling the middle schoolers about her past journalism encounters.
"My favorite part was probably talking to them about what our experiences were, we had kind of a Q&A panel going and they just asked us 'where do you like to shoot your pictures?'" Lucas said. "The kids were funny, they're all in middle school so they were kind of crazy, but it was fun."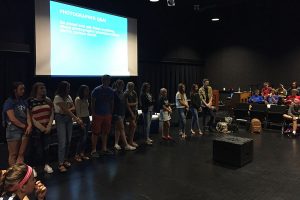 Crews thought the hands-on photography section of the event had the biggest impact on the students, as well as herself.
"Personally, the most beneficial part of the workshop was the photography sessions," Crews said. "That is where I feel that my skills are the lowest and I feel that just having the opportunity to learn about a camera setting and then to have the time to go and apply what you just learned is so great for those kids."
Having been on the middle school publications staff four ago, Lucas knows the knowledge level the students have about journalism, and thought the workshop taught the students beneficial skills to take back to their schools.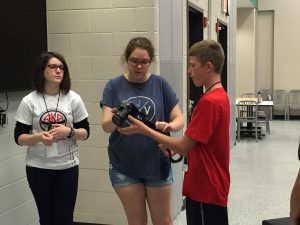 "When I was in middle school we had no idea about high school journalism," Lucas said. "They get an idea of what it's like and what they want to do. Hopefully they can incorporate that in their middle schools so it's more journalistic and so it's not such a huge jump where they have to learn all this new stuff when they get to high school."
(Visited 64 times, 1 visits today)