Job and animals provide solace to custodian after past struggles
Custodian Rhonda Jensen said she 'tries to make someone smile every day'
November 16, 2015
Anyone who's ever wandered the halls during seminar or stuck around school past 2:55 p.m. has probably encountered the smiling face of custodian Rhonda Jensen.
For over 12 years, Jensen has been a member of the school's custodial team, a group she refers to as "a family."
"We all care for each other," Jensen said. "They're there for me. If someone needs help, we're there for each other. We're a family — we're here more than we're at home."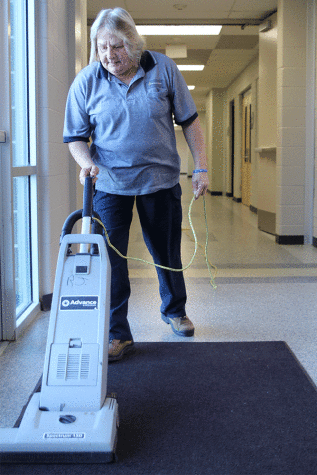 Jensen only works the night shift beginning at 2p.m., so students might better recognize her for her cameo appearance in "Ten Ways to Survive A Zombie Apocalypse," one of three one-act plays which comprised last year's spring production.
Getting to interact with students, like being involved in the theater department, is part of why Jensen enjoys her job.
"When I first started here, I wasn't really close to the kids, but in the last maybe four years, I've just thought, 'Hey, I need to get to know these kids,'" Jensen said. "I've helped them through some things too. That makes me feel good that I can [do that]."
Jensen has experienced her own share of adversity. As a single teenage mother, Jensen had to take on more responsibilities early on in life to support herself as well as her daughter, Nicole.
"I quit school because I had a child," Jensen said. "I just never went back to school. Without that high school diploma, you can't really get a lot of stuff."
She began working, and her hours presented an early obstacle in her relationship with Nicole.
"Working nights was hard because I had to find a babysitter," Jensen said. "When she got old enough, she just stayed home by herself and I just had the neighbors watch her. But I had to work nights because that's where the money was. Not seeing her that much [and] trying to work as much as I could to support us [was difficult]."
Jensen's addiction to meth further severed her relationship with her daughter, Jensen said.
"Right now, we don't talk. She got with this boy when she was in her senior year," Jensen said, "During that time I was not — I don't want to say not a good mother — I was there, but I was on drugs. And I quit myself. She kind of resents me for that, which, I can't blame her. When she got with this guy, they just kind of made [my addiction] bigger than what it was. So, I haven't talked to her in probably five or six years."
The consequences of her drug use quickly accumulated. After filing for bankruptcy, Jensen made the decision to quit drugs and has been clean for about 15 years.
"[The drugs were] bringing me down. I was skin and bones," Jensen said. "[Meth] ruined my life. I guess that's why I said, 'I'm done.' I had nothing to show for all those years I worked, because I lost it all. It's been a hard road, but here I am. I will never go down that road again."
"
Finally, here I am at 54 years old, and I'm still struggling, but it's better."
— custodian Rhonda Jensen
Although she has conquered her addiction, her relationship with her daughter remains fractured. However, Jensen said she will care for her daughter despite the circumstances.
"It's sad — you never think your kid's going to up and never speak to you again. It's like she's died," Jensen said. "She's always there in my heart. I'll love her till the day I die, whether she loves me or not."
Combined with her complicated relationship with her daughter, the passing of Jensen's mother in 2001 sent her into a state of depression.
"There have been times I thought [about] suicide," Jensen said. "It's been a big struggle. There's days I just want to lay in bed and not get up. There's days I'm pretty messed up over it, but I'm getting better."
Following her baptism three years ago, Jensen was able to forgive herself. Through religion, she found a sense of relief.
"I went and got baptized. I just got to pray every day that [Nicole] hears my prayers. I know I've done wrong, but I've been forgiven," Jensen said. "The past is the past. I've got to move on and I can't let that destroy my future. I'm hoping one day she hears my prayers and then she comes around."
Despite complications, family has remained an important aspect of Jensen's life. She bought a house with her sister a few years ago and the two have lived together since.
"We're close; we have our moments. When living together, it's kind of hard, but we get by," Jensen said. "It's been five years and we actually get along a lot better."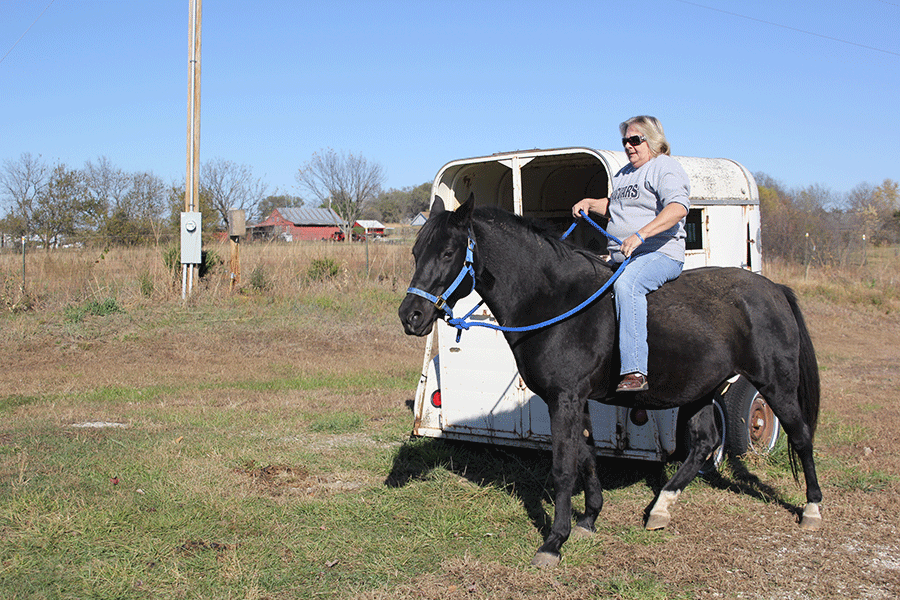 Jensen and her sister reside on a large acreage with their animals: two dogs, four cats and five horses. For Jensen, her animals, namely her horses, have played a therapeutic role in her recovery.
"Let's just say they keep me going. They're my sanity," Jensen said. "I love animals. I'd rather be around animals than I would people. They're beautiful. I just sit there and watch them in the pasture. They're beautiful to watch."
Jensen's work schedule often keeps her from spending time with her animals during the week, making the weekend her prime time to ride horses.
"I don't care for the hours," Jensen said. "Weekends are my time to ride and do my hobbies …  Sometimes I just ride around the yard bareback. Sometimes we all go out and go riding."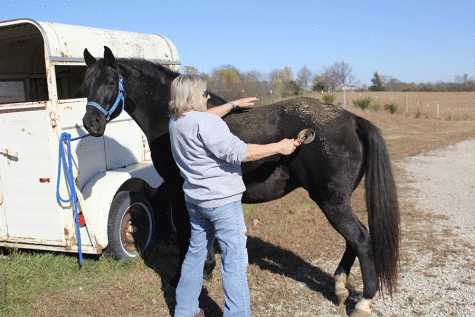 Although it limits her time with her animals, Jensen said working at the school has had a similar effect on her.
"Coming [to school] makes me happy; the [drama] kids keep me going," Jensen said. "I got a lot of people I can talk to. I got good teachers in my area that I can sit and talk to. They help me through. The teachers here and the kids help me through it."
Jensen said she makes a special effort to spread her positivity on a daily basis to students and teachers alike.
"My goal is to make somebody smile every day," Jensen said. "[Physical education teacher] T.J. [O'Neill] … he would never use to smile when he first got here. Then I finally said, 'Listen here, you ain't goin' nowhere till I see a smile.' And I made him smile, and now he smiles every time he looks at me."
Life continues to present challenges, however, Jensen has learned to forgive herself for her past and looks to her friends who make up her support system for guidance.
"I've got really good friends that have pulled me through and my family," Jensen said. "You know, it's like, 'Hey, it's not your fault. You've done your [part] — it's done and gone with.' It's just been a hard, hard struggle. Finally, here I am at 54 years old, and I'm still struggling, but it's better."
(Visited 49 times, 1 visits today)