Jazz band performs in final concert of the year
The band played songs such as "Manteca" and "Brass Machine"
The Jazz Band performed in their last concert of the year Tuesday, April 30. The band started their performance with "702 Shuffle" and went on to play "Teaneck", "Squares be Gone", "Big Dipper", "Giants Walk Among Us" and Manteca before ending their performance with "Brass Machine".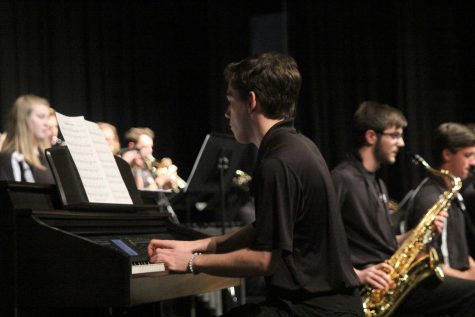 According to junior baritone saxophone player Travis Babcock, the band had a good last performance.
"We did well," Babcock said. "We played well on all of our songs and overall we sounded really good."
For sophomore alto saxophone player John Fraka, the performance went well, although they made mistakes.
"I think we had a couple of intonation issues but other than that I think we did pretty good," Fraka said.
Because it was the last performance of the year, Babcock felt like people were more willing to get out of their comfort zone.
"It was a lot more relaxed," Babcock said. "People took more risks and had more fun with the concert because it was the last one of the year and for some people … their last jazz band concert."
According to Fraka, this performance was more laid back than other performances.
"It is a different setting especially from contest where we were at [Kansas City Kansas Community College], Fraka said. "It has a different attitude that you approach it with; I think it is a lot more fun and carefree as opposed to how serious we take the other concerts."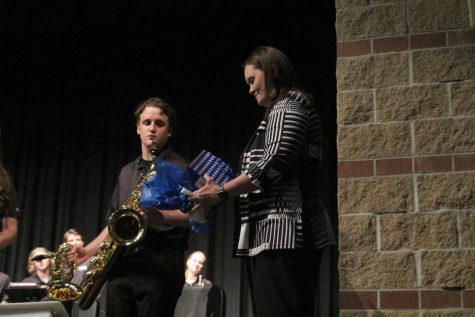 Even though this season is over, Fraka hopes to carry the bands streak of getting ones into next year.
"I am hoping to continue our streaks of getting ones at contest and to just keep getting better," Fraka said.
The band will perform their final concert as a whole band Tuesday, May 7th in the main gym.
(Visited 387 times, 1 visits today)