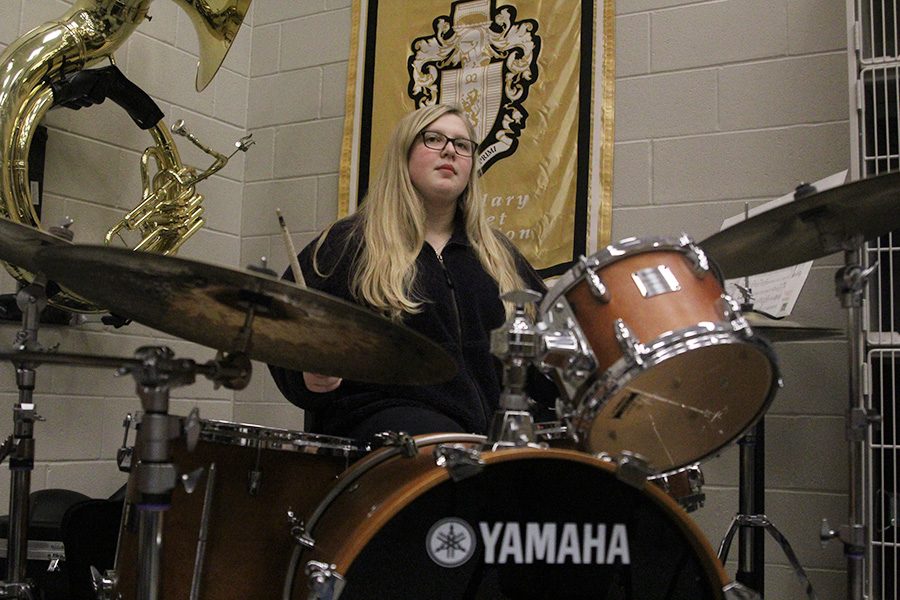 Jazz band encourages student self-expression through freeform music
Students create their own music for improvisation and solos
Every day, classes of students meet in the band room to showcase their talents, but a certain group, known as Jazz Band, meets in the band room to explore their creative side when performing music.
Junior saxophonist Joey Gillette believes jazz band is special because of the makeup of the group.
"Jazz band is really unique because it's a small group and it's kind of a group within a group," Gillette said. "Us band kids who like band also get to meet and do jazz band, which is kind of an addition to normal band."
Compared to regular band, jazz band has a more relaxed environment, according to junior percussionist Abby Lee.
"Jazz band has less structure, making it more easy going and less about perfections," Lee said. "Not to say that we don't care if we sound bad, but [band director Deb] Steiner really just wants to see us grow creatively."
Gillette was attracted to jazz band due to his own experience in Blue Band, as well as his brother having been in jazz band before.
"I've been playing saxophone since fifth grade, so I was definitely interested and my brother was also in jazz band, so I had been to some of the concerts and I thought it was really cool," Gillette said.
On the other hand, sophomore trombonist Will Howard was attracted to jazz band because of the musical opportunity.
"I was attracted to jazz band because I was looking for any opportunity to play music in school," Howard said.
Lee's ability to make up the rhythms as she goes allows her to be creative in her music.
"I express my voice through music, at least in jazz band, with solos and improv," Lee said. "You get to make up whatever you want and whatever you think sounds good, which is really cool because you don't have to read what is on the page."
Howard enjoys jazz band because of the type of music they play.
"I like jazz band because of the fun songs and how it's different from the other music we play in band," Howard said.
When given the chance to freestyle during a song, Lee believes that less is more with percussion.
"My style is much more simplistic and less about how many notes I can cram in a 16 bar solo. I like to make it fun, sporadic and exciting to listen to," Lee said. "I want to make sure that an audience could enjoy my music just as much as I do."
Everyone playing together creates one voice that represents the whole group, according to Gillette.
"It's less of my personality and more of a group identity," Gillette said. "When we meet for jazz band, we're putting on a show and representing the band program and all of us together."
(Visited 95 times, 1 visits today)