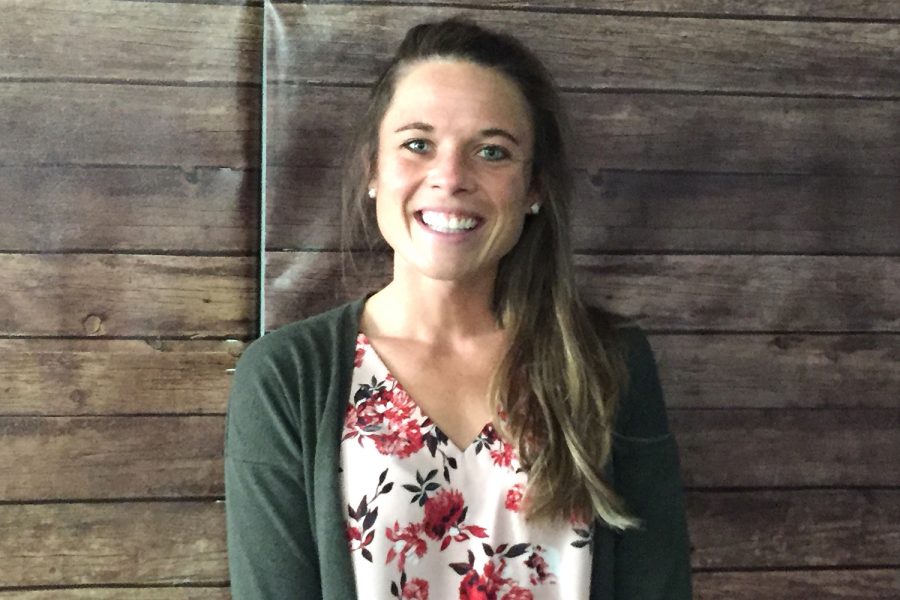 Jamie Kellog, ELA Teacher
JagWire: First, tell us a little about yourself.
Jamie Kellog: "I am originally from Colorado. I grew up there, completed my education, and taught for three years there prior to moving to Kansas to be an academic advisor at the University of Kansas. My husband and I just celebrated our wedding on September 11th. We also have a fluffy dog named Otis."
 JW: Describe your college experience.
JK: "I completed my undergrad at Colorado State University in Fort Collins. I studied speech communication and secondary education; I secretly love public speaking. After teaching in rural Colorado for three years, I returned to graduate school at the University of Northern Colorado to complete my masters in Higher Education and Student Affairs Leadership (a long name for working with college students). During this time I worked in diversity education programs, interned in San Francisco, and studied abroad in rural Mexico. My goal was to work in community engagement and service learning programs at the collegiate level."
JW: Why did you decide to go into teaching? 
JK: "I went into education because I have a deep and inherent care for people. I have always known I belong in a career where I wake up every day with a purpose and a mission to change a life. I left teaching for a while to chase further world-changing dreams; however, the further I moved up in my career, the further I moved away from students. I know working with students is the call I have on my life, so I found my way back to the classroom."
JW: What do you enjoy about teaching?  
JK: "I love those small moments when you get to talk about life with students – their new favorite song, their dreams, their hobbies, their weekend plans. I also love the "ah-ha" moments with students when they really engage in the material and learn something new."
JW: What is your experience with teaching high school students?
JK: "I taught high school sophomores, juniors, and seniors for three years. I taught everything  – American literature, public speaking, and science fiction literature. I also had the opportunity to teach at the collegiate level and loved that experience."
JW: What do you want students to know about you?
JK: "I hope students are learning that I am an approachable person and full-of-life person; the masks really put a damper on approachability. I hope they know that they will work hard in my class, but it will make them stronger; I also think they will have a little fun."
JW: What hobbies do you have?
JK: "I have always been one who loved to travel. My husband and I are counting down the days until we can reschedule our trip to Europe. I spend a lot of time walking trails with my dog. I also love coffee shops – I have a list of the 20 best coffee shops in the KC metro. My husband and I also recently learned to play pickleball, and I am not that bad."
JW: What is an interesting fact about yourself?
JK: "I can rap all of Vanilla Ice Ice Baby.  My new last name is now Kellogg and ironically, that cereal is my favorite food."
(Visited 5 times, 1 visits today)