Jagwire staffers review The Big Biscuit
The Big Biscuit serves great early morning and mid afternoon foods with excellent service
John Lehan, JagWire reporter/photographer
January 22, 2019
A great way to start off your day, The Big Biscuit serves delicious breakfast and lunch food. Located at 12276 Shawnee Mission Parkway about 15 minutes from the school, The Big Biscuit opens at 6:30 a.m. in the morning, leaving plenty of time for those looking to eat before school.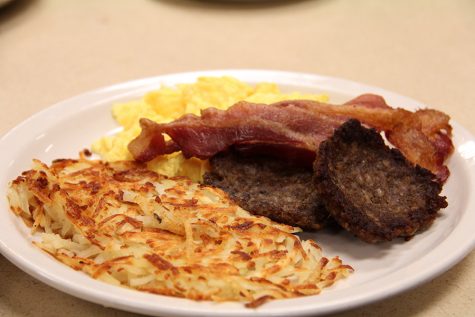 The Big Biscuit hosts an assortment of over 20 four-person tables and booths. The inside is decorated with greenery and has a TV occupying each corner. When we arrived at opening, there were only a few other customers, but at around 7 a.m. business picked up.
The service was excellent. We were seated without delay and ordered within 10 minutes. 10 minutes later, our food was ready. During the course of our meal, our water was filled up without request.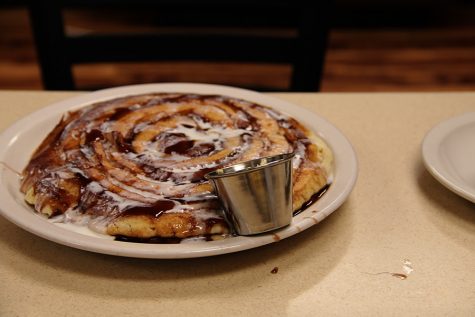 I ordered the cinnamon roll pancakes and signature Big Biscuit and Jonathan ordered a Big Breakfast, which included eggs, sausage, bacon and pancakes. The cinnamon roll pancakes acted like cinnamon rolls in every aspect but their pancake shape. They were gooey and a little messy, but each bite was delicious.
The signature Big Biscuit surprised me by being more than an oversized biscuit. The biscuit was dry around the edges, but filled with a fluffy interior most other biscuits lack. Normally I prefer butter on my biscuits, but in this case I felt butter simply ruined the fluffy interior by making it too moist.
The sausage and eggs were good, but didn't blow me away. The sausage did leave a bit of a spicy aftertaste, but was otherwise fairly standard.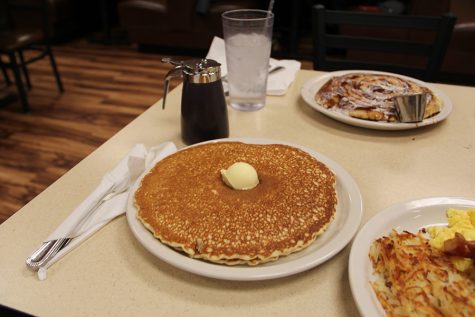 All around, the food was very filling. The pancakes were about 8 inches in diameter, and as the name suggests, the Big Biscuit was quite large. It was almost a shame, as the food was so filling it was hard to enjoy it all.
Overall, I would rate The Big Biscuit four and a half stars out of five. For the most part, the food was a pleasantly unique experience, and the service was phenomenal. Despite the occasional average dish, I left extremely satisfied.
(Visited 375 times, 1 visits today)