JagWire reporters review recently opened Overland Park location of The Doughnut Lounge
Reporters sample and review a classic glazed, maple bacon, hot fudge sundae and old-fashioned doughnut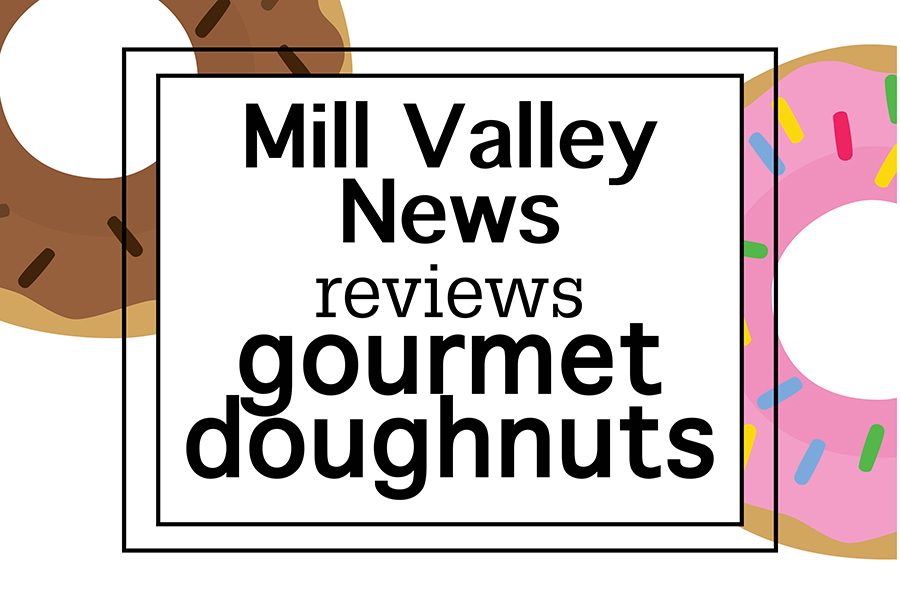 Kansas City enthusiasts and doughnut lovers alike may be familiar with The Doughnut Lounge, a gourmet doughnut shop that has been serving the residents of Westport since early 2015.  As the franchise has begun expanding more and more throughout the metropolitan area, two JagWire reporters set out to sample and review the doughnuts and coffee of the new Overland Park location that opened in January of this year.
Classic Glazed: $1.75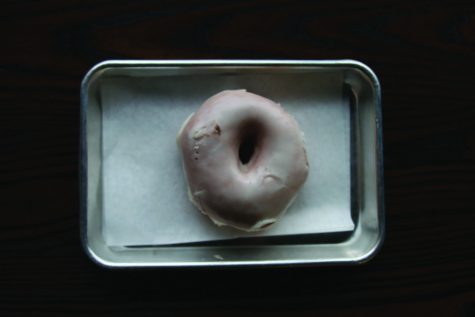 Appearance: 2/5
Dough quality: 3/5
Flavor Quality: 4/5
Flavor integrity: 5/5
Could you eat this donut for the rest of your life? No
Walking into the Doughnut Lounge, we had high hopes for the first doughnut of the evening.  When we arrived, it was empty enough that there were plenty of open tables and a short line. However, it was late in the afternoon so unfortunately it looked, and tasted, like the classic glazed doughnut had been sitting out since an early morning delivery.  Though we enjoyed the homemade taste of the icing, the dough was not as fluffy or moist as we were hoping for. Overall, this was an extremely classic doughnut, but we were underwhelmed.
Maple Bacon: $3.25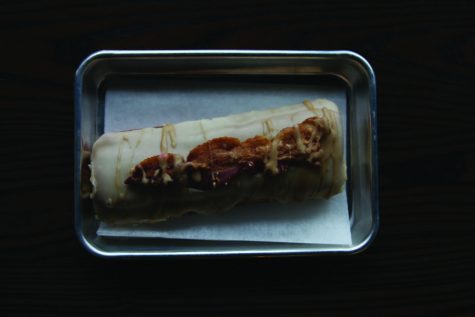 Appearance: 4/5
Dough quality: 4/5
Flavor Quality: 5/5
Flavor integrity: 4/5
Could you eat this donut for the rest of your life? No
Next, we sampled one of The Doughnut Lounge's wackier offerings.  The appearance, though aesthetically pleasing, was intimidating, but we were pleasantly surprised with how much we enjoyed this doughnut.  The overall taste struck a fine line of balance between savory and sweet, and neither the bacon nor the maple icing overpowered each other.  The dough was satisfactory, and we felt like we were eating a transfigured breakfast of pancakes and bacon.
Hot Fudge Sundae: $3.25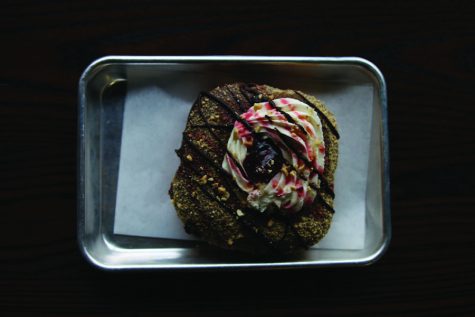 Appearance: 4/5
Dough quality: 4/5
Flavor Quality: 5/5
Flavor integrity: 2/5
Could you eat this doughnut for the rest of your life? Yes
This doughnut was part of a trial run, but we definitely think it would be a tasty addition to the daily menu.  It looked very inviting, but the presentation could have been executed a little better. This doughnut is best shared, and though all the flavor components of a hot fudge sundae were present, it didn't give off ice cream vibes.  Each bite of this donut was different. We especially enjoyed the unique coating on the chocolate icing, but the layers of chocolate cream, bavarian cream, and strawberry compote in the center were slightly overwhelming. Overall, this donut exceeded our expectations, but expect a huge sugar rush if you attempt to conquer this doughnut by yourself.
Latte $3.75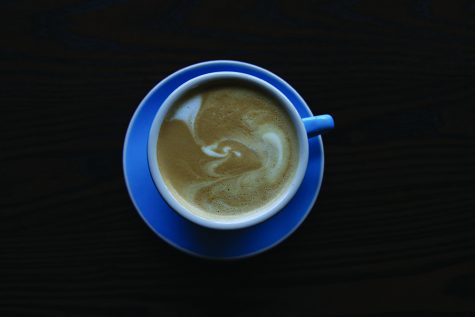 Appearance: 3/5
Espresso: 4/5
Foam: 5/5
Aside from their well-known doughnuts, The Doughnut Lounge also offers a wide variety of savory breakfast dishes and "noduts" between the hours of seven and noon, as well as boasting a full coffee bar and cocktail bar (at just the Westport location).  After downing three doughnuts, we definitely needed a pick me up, so we decided to give their latte a try. This shop carries Messenger Coffee, a Kansas City staple. Though our barista admitted she was a novice, we had absolutely no qualms with the quality of this coffee.  The espresso was sweet, yet balanced and the foam, though it may have lacked an artful pour, was perfectly steamed.
Old-Fashioned $1.75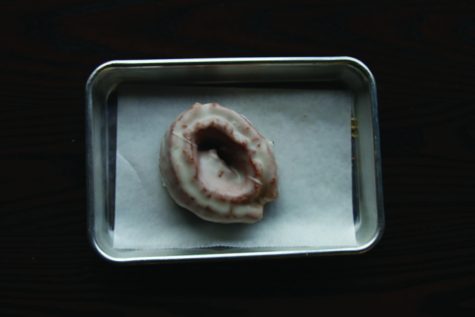 Appearance: 4.5/5
Dough quality: 5/5
Flavor Quality: 5/5
Flavor integrity: 5/5
Could you eat this doughnut for the rest of your life? YES
This was the doughnut we had been waiting our entire lives to try.  The dough was moist and dense, without being soggy, and though the Old Fashioned had the same icing as the Classic Glazed, it was by far our favorite.  We were pleased with the simplicity and quality of this last doughnut, and will definitely be returning to try it again in the future.
Overall, The Doughnut Lounge was well worth the drive. Boasting great food and an even better location, it is the perfect place to spend the afternoon chatting, snacking and exploring with a few friends.
(Visited 22 times, 1 visits today)
About the Contributors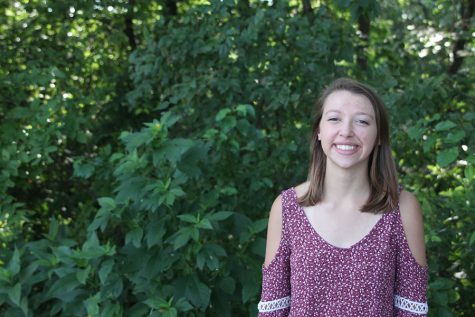 Jordan Robinson, JagWire photographer
This is senior Jordan Robinson's first year on staff as a reporter and photographer.  Outside of journalism, she is a co-captain of the swim team, president of Club 121, a member of NHS, the District Student Advisory Committee, SLT and Relay for Life.  She has participated in band all four years and has been a drum major for two years. Jordan enjoys working as a barista and, as far as she knows, she makes the best latte at Mill Valley.
Claire Boone, JagWire managing editor
This is senior Claire Boone's third and final year on the JagWire staff. This year she became the JagWire's managing editor. Outside of journalism, Claire is part of the track and field team, and will be starting her final season this year. When it comes to activities outside of school, she spends lots of her time at church or at work as a waitress, where she loves to see the bright faces of her customers early in the morning. She also is extremely...